如果一個設計裡面,能看到業主的影子,還能看到設計師的影子,那這個案子就相對比較不錯.每年我們都在通過一些案子做一些新的嘗試。
If you can see the shadow of the owner and the designer in a design, then this case is relatively good. Every year we make some new attempts through some cases
客廳是一個圍合的木飾麵包裹的空間,猶如一個木盒子.木飾面特地按照木地板顏色打的樣.房子位於頂樓,所以視野也特別開闊,開車穿過隧道就到國金中心了。
The living room is an enclosed space wrapped in wood veneer, like a wooden box. The wood veneer is specially patterned according to the color of the wood floor. The house is located on the top floor, so the view is also very wide, driving through the tunnel to the IFC .
沙發背景白色的石膏板造型做了背景燈光,晚上的時候別有氛圍.凹造型的同時還要結合功能。
The white plasterboard shape of the sofa background is used as the background lighting, and there is no atmosphere at night. The concave shape should also be combined with functions.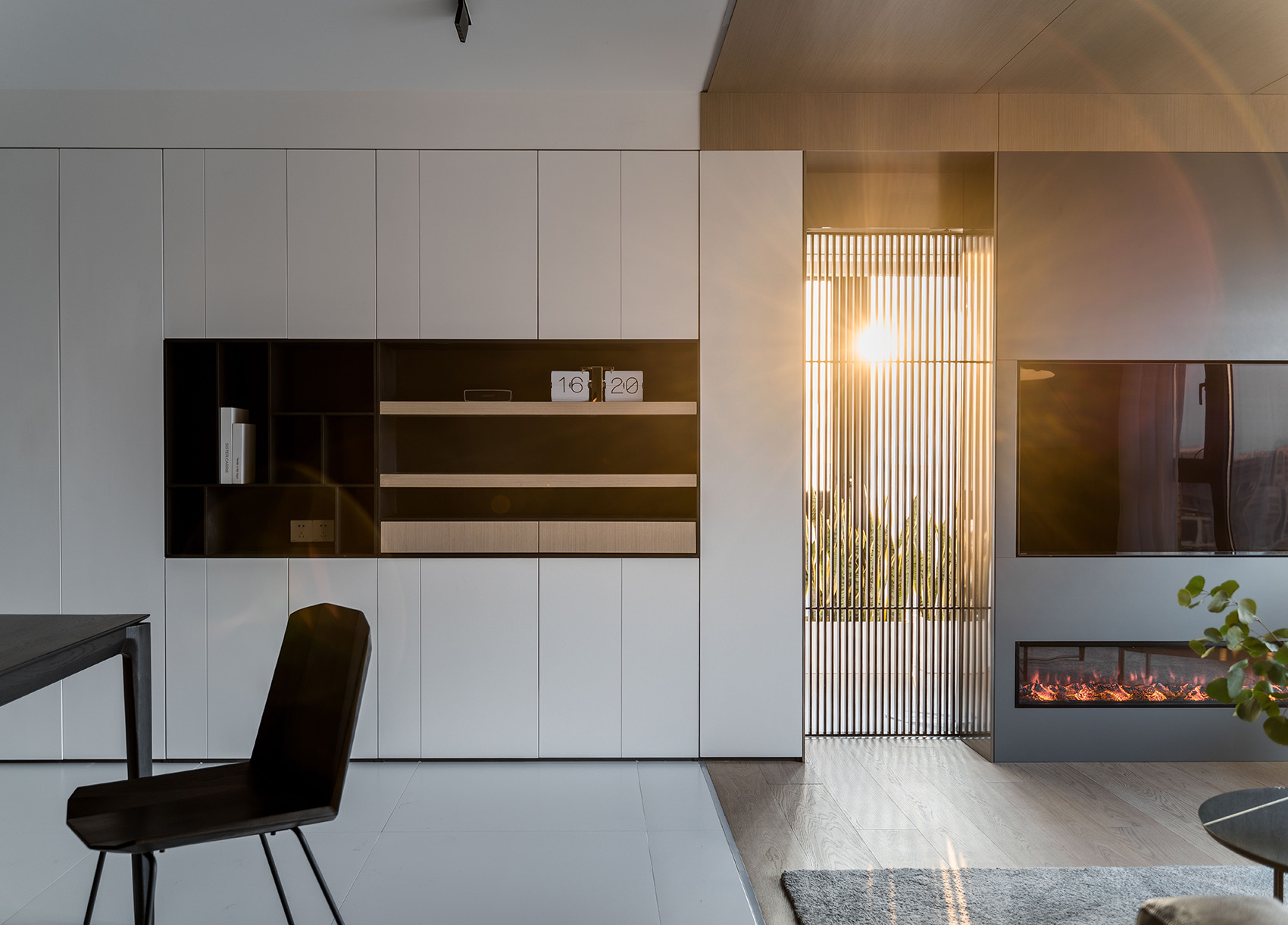 這是我最喜歡的一張圖,拍攝的時候正好捕捉到了陽光灑進來的感覺.感覺像夕陽的餘輝.透過格柵,光線似乎挑逗著空間.光隨著太陽的移動,也慢慢變化。
This is one of my favorite pictures, it was shot just to capture the feeling of the sun shining in. It feels like the afterglow of the sunset. Through the grille, the light seems to tease the space. The light changes slowly as the sun moves .
灰色的電視牆其實是個櫃體,櫃門藏在了陽台一面,電視機下面的壁爐用來烘托氛圍。
The gray TV wall is actually a cabinet, and the cabinet door is hidden on the balcony side. The fireplace under the TV is used to set off the atmosphere.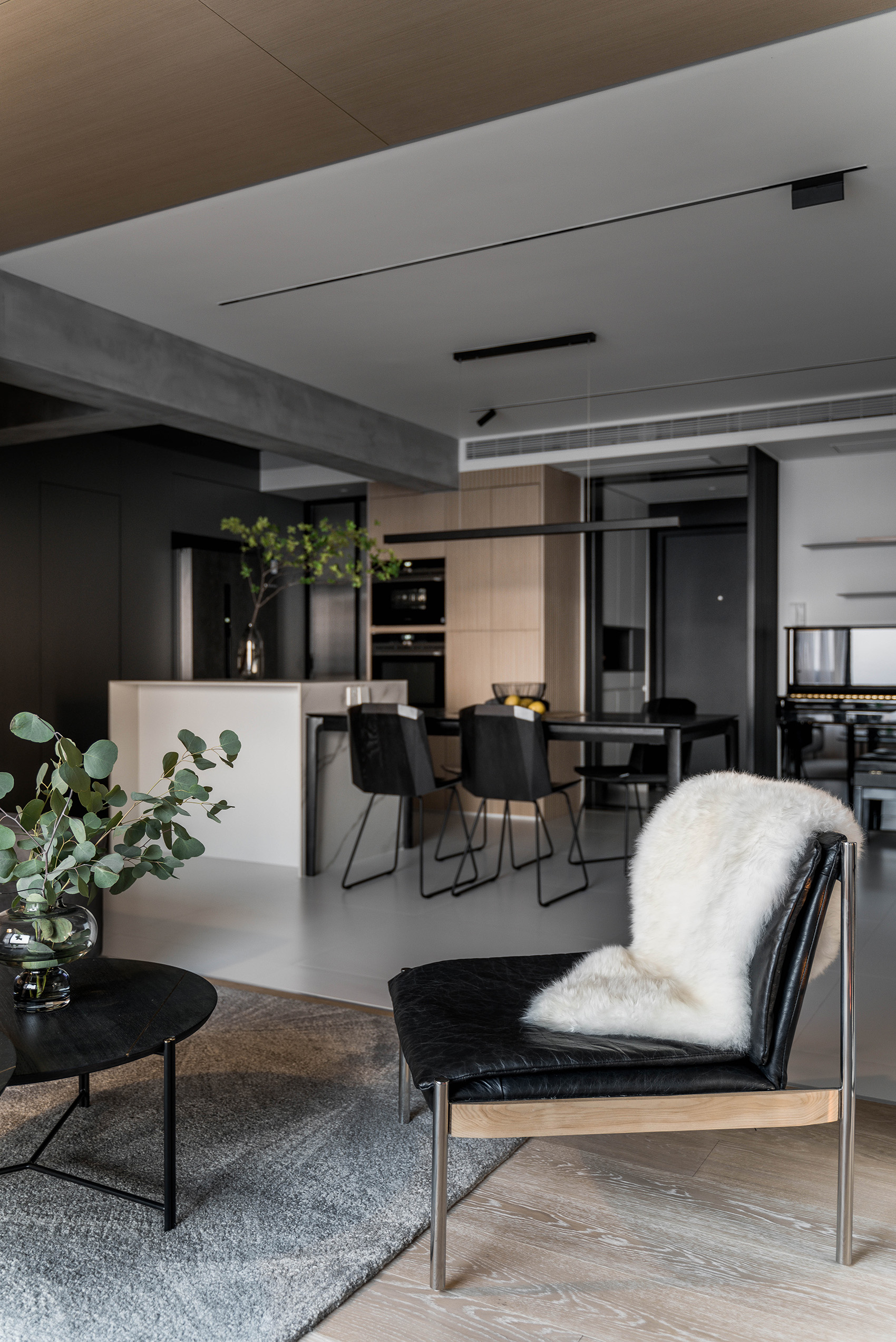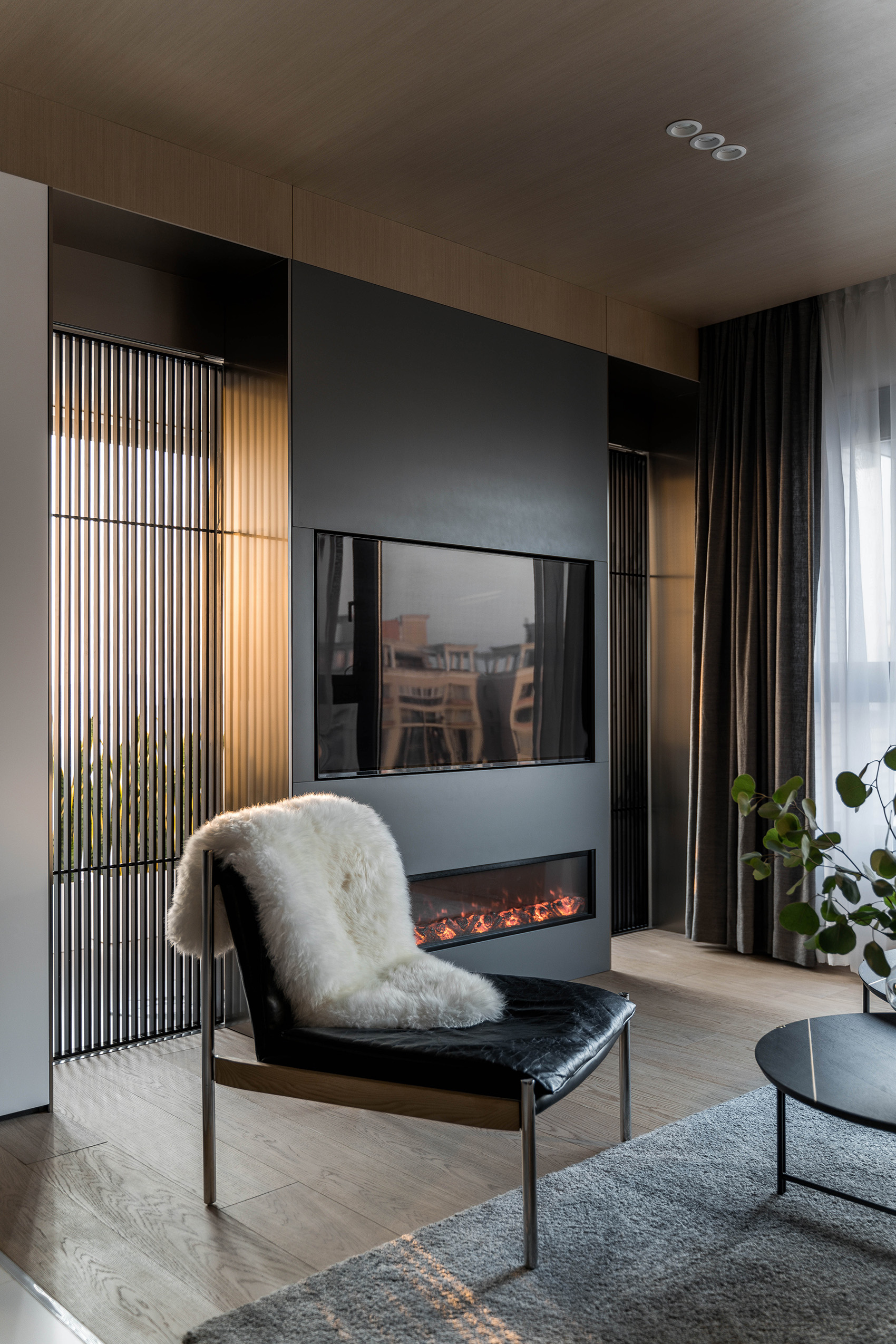 可以在這裡曬著太陽,坐上一下午。
You can bask in the sun here and sit for an afternoon.
這張角度的照片的軸線感特別好,廚房縮小後,在外面做了西廚,島台下面還放了紅酒櫃。
The axis of the photo from this angle is particularly good. After the kitchen was reduced, a western kitchen was built outside, and a wine cooler was placed under the island.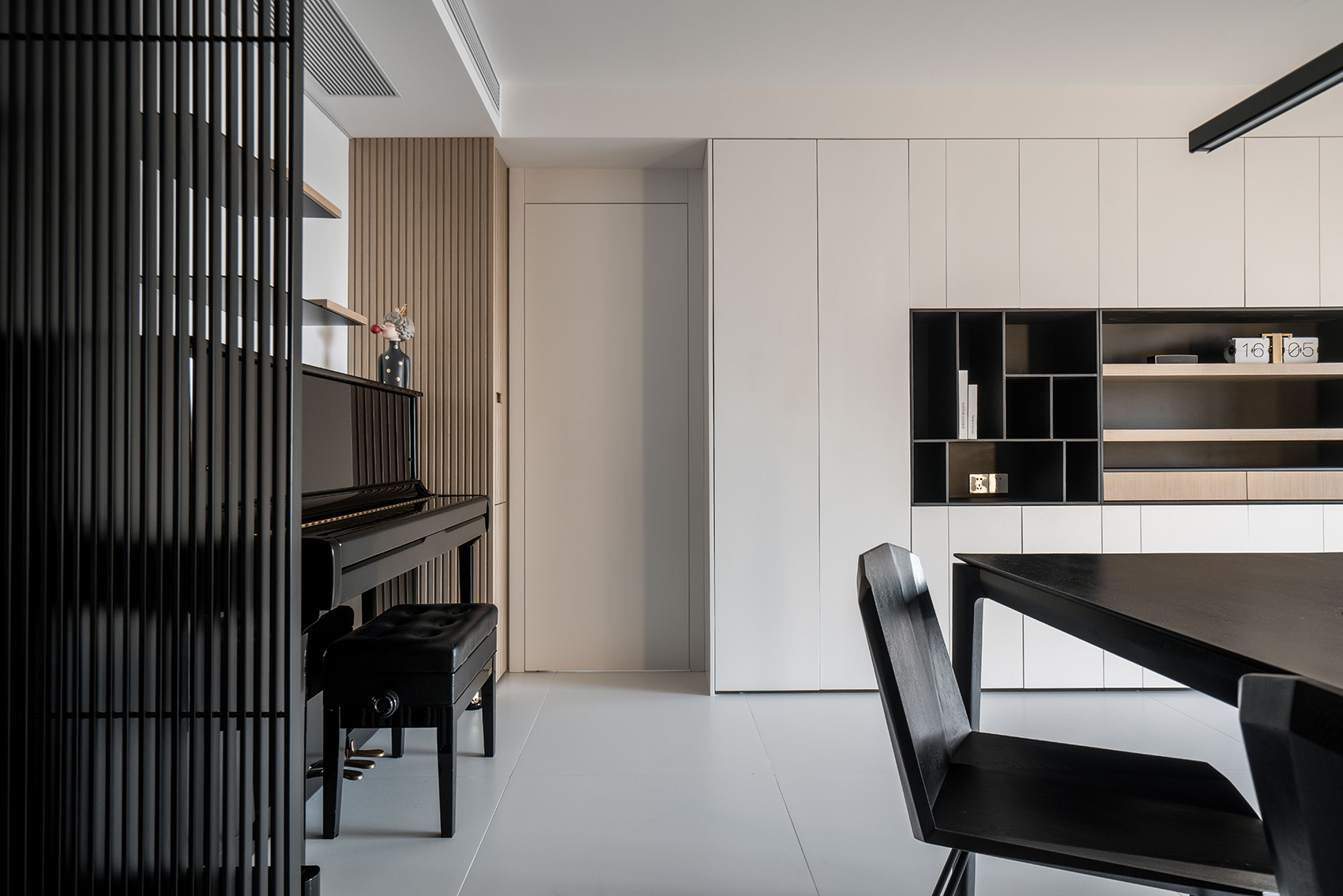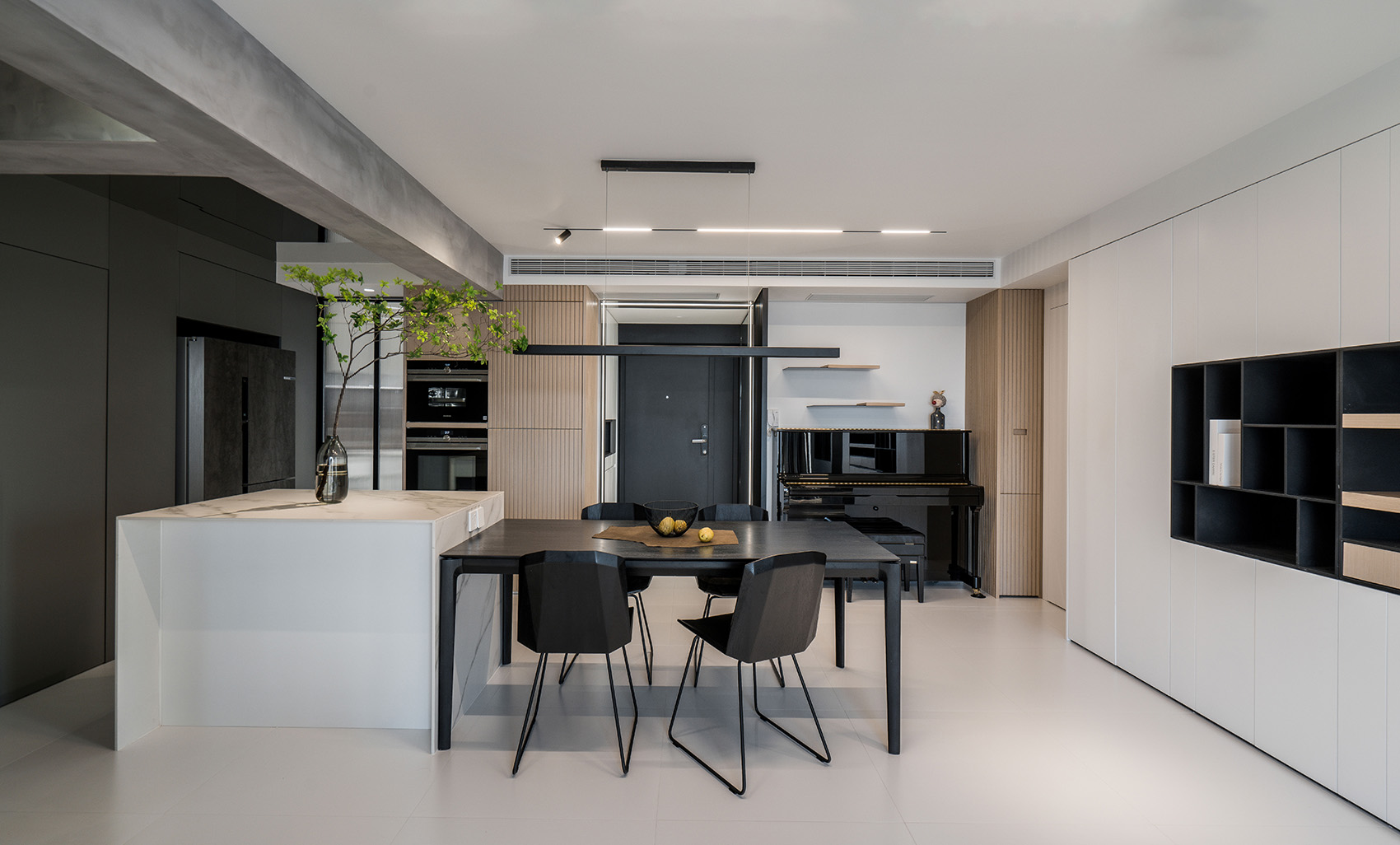 唯一遺憾就是冰箱沒有用內嵌式的.島台上方是原始裸梁,牆體拆除後下掛太低,所以乾脆裸著.還頗具結構感。
The only regret is that there is no built-in refrigerator. Above the island is the original bare beam. After the wall is removed, the hanging is too low, so it is simply naked. It also has a sense of structure.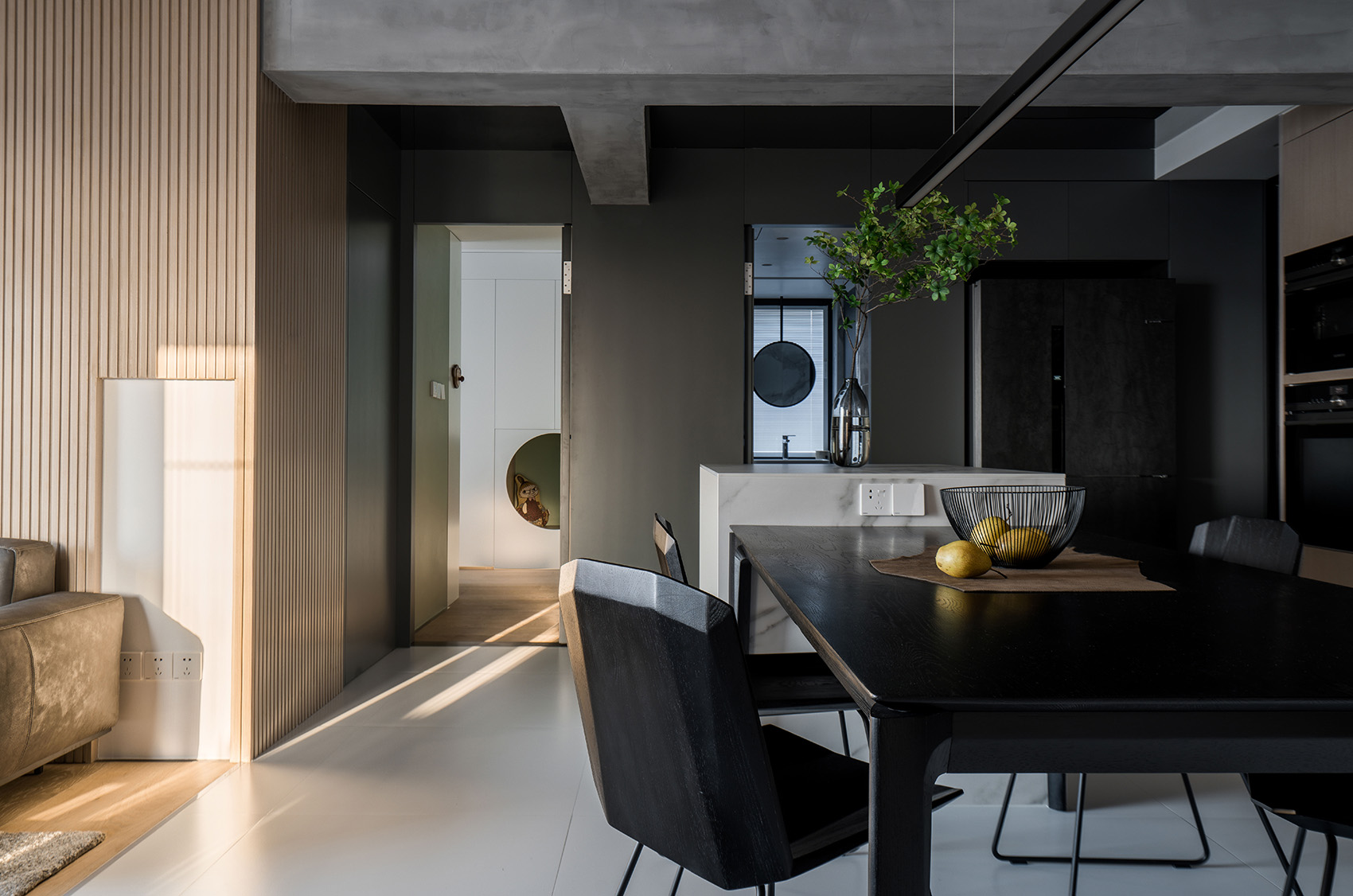 餐厅灰色墙面其实有两个隐藏门,打开后,一边是小女儿房,另外一边是客卫。
There are actually two hidden doors on the gray wall of the dining room. After opening, one side is the daughter's room, and the other side is the guest bathroom.
廚房出來到餐廳的區域,頂面為了拉伸層高,做了鏡面不銹鋼。
The kitchen comes out to the dining room area. The top surface is made of mirror stainless steel in order to stretch the height.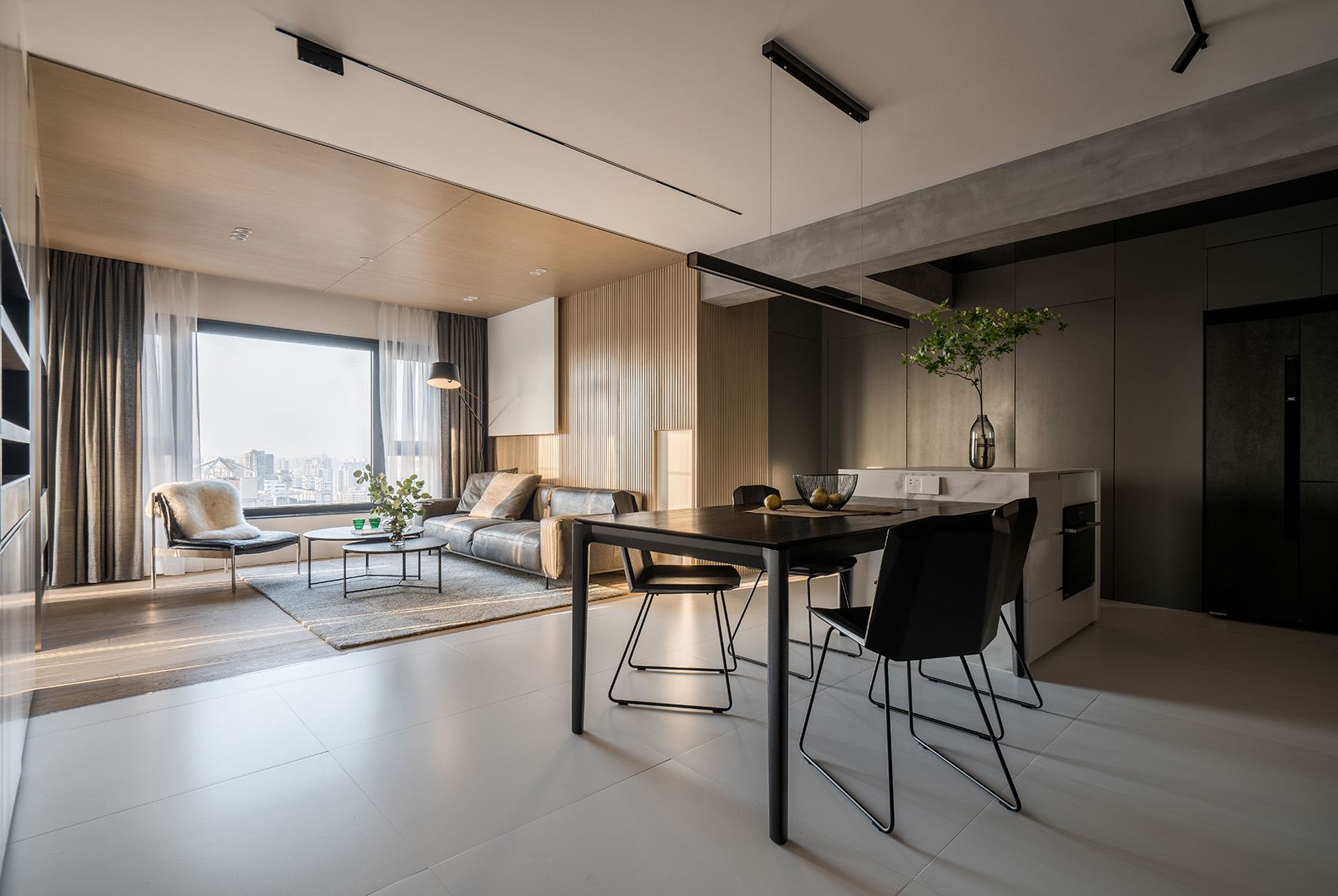 分界,通過線條光與材質來實現區分兩個功能區。
Demarcation. Distinguish two functional areas through line light and material
櫃體材質:烤漆面板+不銹鋼架+木皮層板。
Cabinet material: paint panel + stainless steel frame + veneer laminate
鋼琴旁邊做了抽拉式儲物,不放過每一個空間。
There is a pull-out storage next to the piano. Every space is not spared.
入口玄關左邊做了落地鏡,右邊是鞋櫃,為了界定區域,做了一圈不銹鋼線條燈。
A floor-to-ceiling mirror is made on the left of the entrance hall, and a shoe cabinet is on the right. In order to define the area, a circle of stainless steel linear lights is made.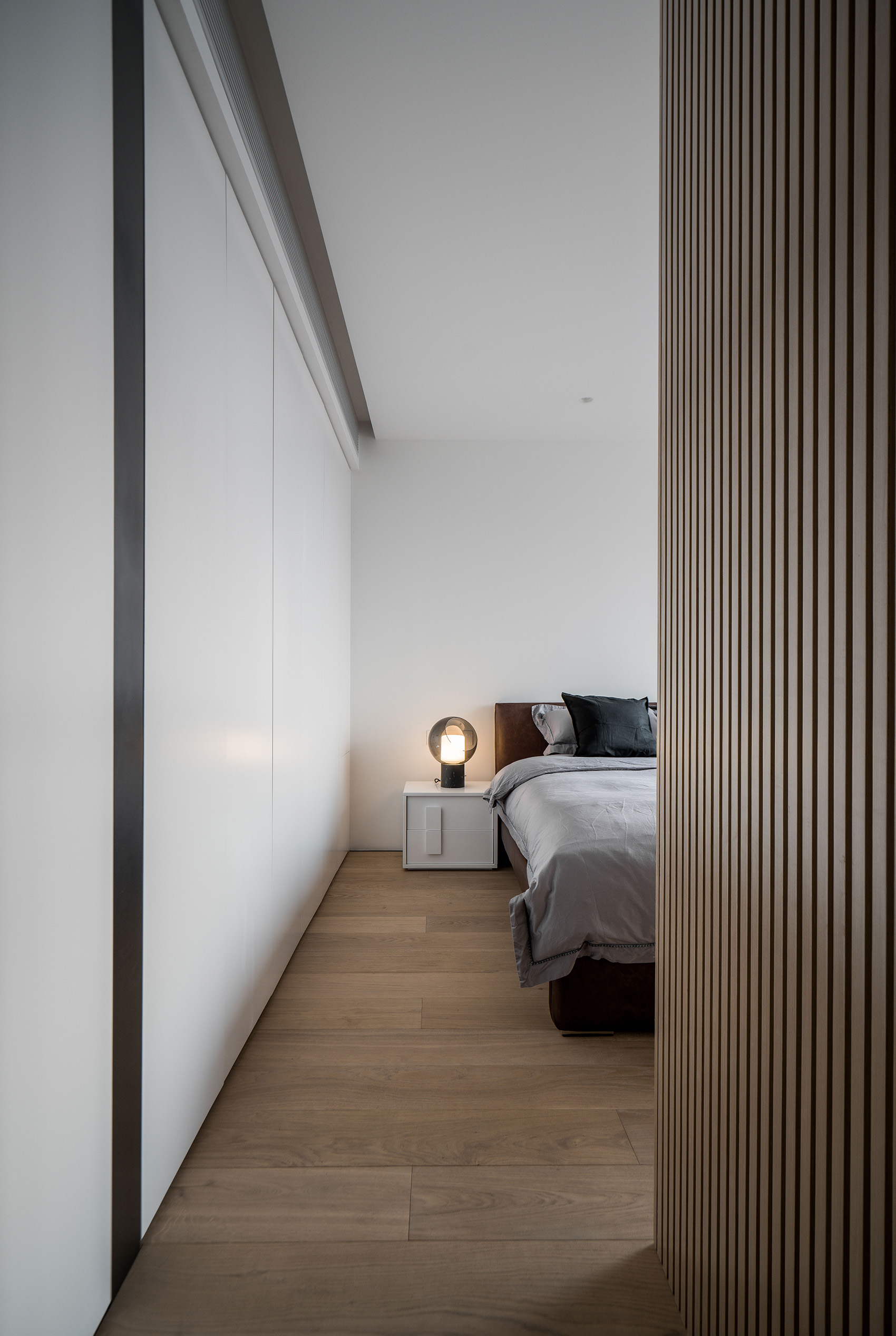 臥室我們做了留白處理.讓空間看上去特別乾淨.左側做了超大面儲物。
In the bedroom, we have done a blank treatment. It makes the space look very clean. On the left side, we have made a large surface storage.
電視牆後面是主衛.其實將每個角落都做的精緻,一直是我們的宗旨。
Behind the TV wall is the main guard. In fact, making every corner exquisite has always been our aim.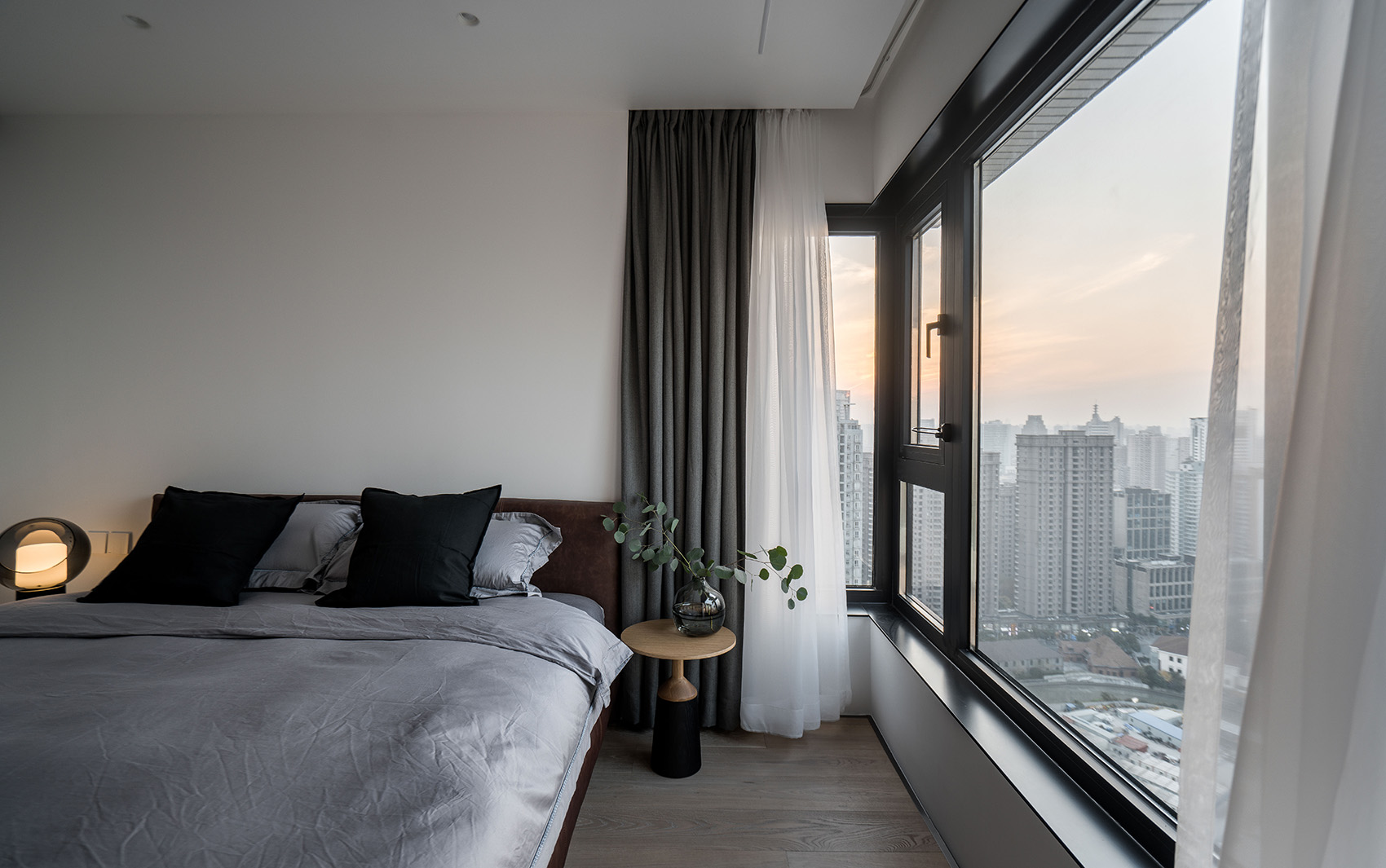 由於台盆在窗戶位置,我們鏡子用了懸掛形式.
Since the washbasin is in the window position, we used the hanging form for the mirror.
為了便於打掃,我們窗戶用了內部夾百葉的形式。
In order to facilitate cleaning, our windows use the form of internal clip louvers.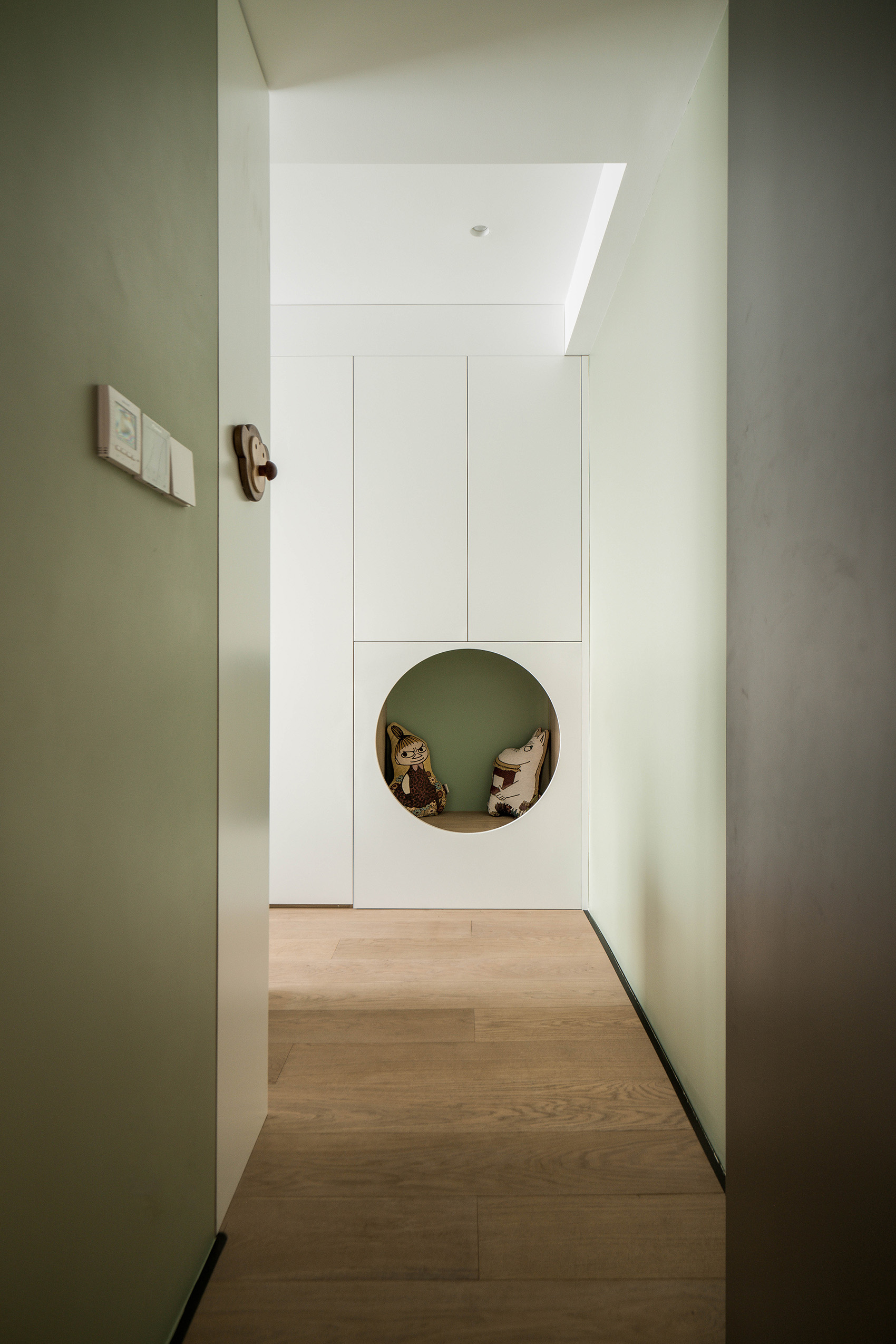 小女兒3歲,喜歡綠色,我們用了低飽和綠和白色搭配。
My youngest daughter is 3 years old and loves green, so we used low saturated green and white.