通向入戶的花園,窗外景觀整體一覽無餘,超大的落地窗分割出不同的框景,極大的弱化了室內外的界限。
Leading to the garden, the landscape outside the window has a panoramic view. The large floor to ceiling window divides different frame views, which greatly weakens the boundary between indoor and outdoor.
整體空間以淡雅為主色調,結構明確、活潑不缺矜持,潔淨不顯清涼,既有現代生活的簡約實用,又富有藝術的生活氣息。
The overall space is mainly light and elegant, with clear structure, lively and reserved, clean and not cool. It not only has the simplicity and practicality of modern life, but also has the breath of artistic life.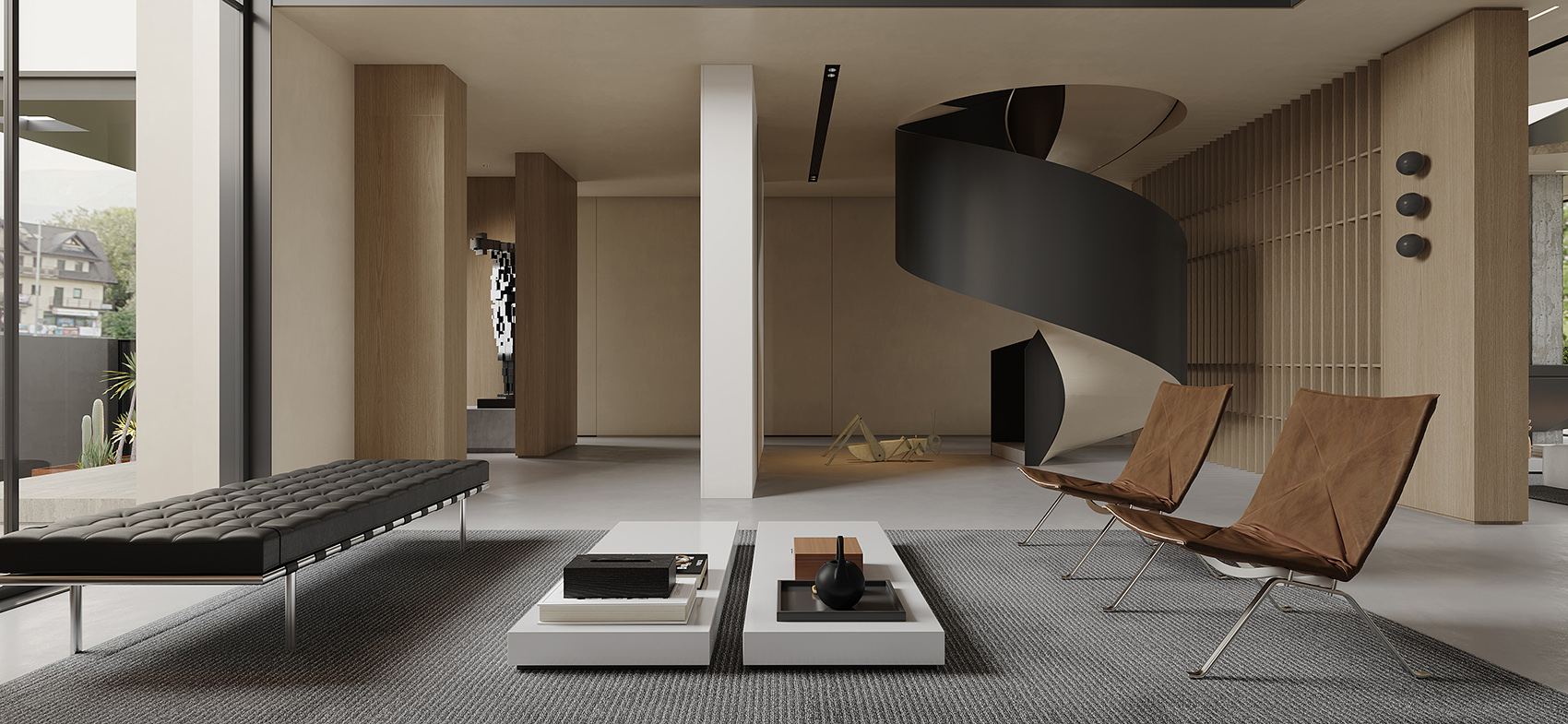 進入室內,旋轉樓梯作為空間連通的樞紐,靈動飄逸、宛若舞動著的腰帶,整體呈現一個渾然天成的弧形,美觀度極高。
When entering the room, as the hub of space connection, the rotating staircase is flexible and elegant, just like a dancing belt, presenting a natural arc as a whole, with a high degree of beauty.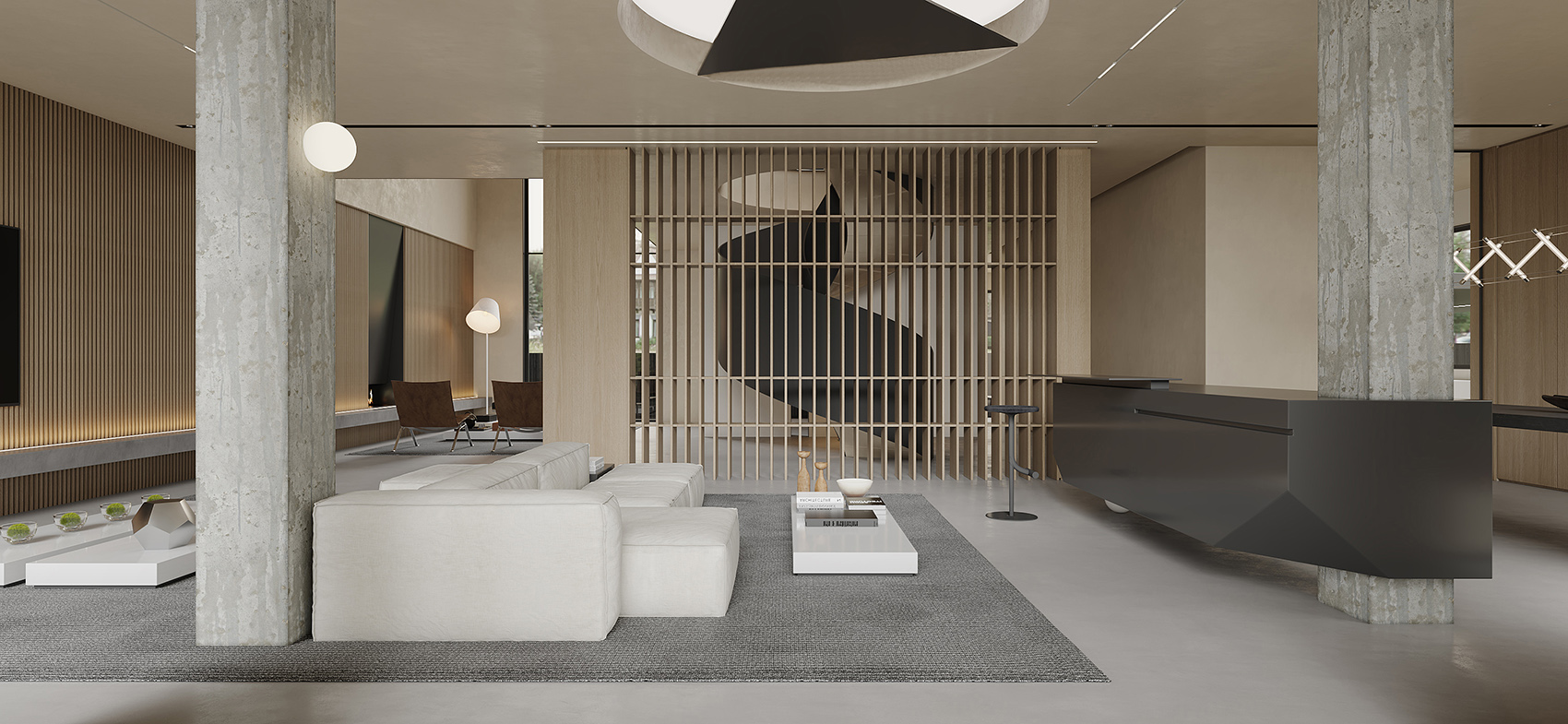 客廳與餐廳之間的兩原始承重柱,展現出原本建築的粗狂,與精緻的傢俱形成鮮明的對比,讓空間更加靈動,同時也成為了客廳視線的焦點。
The two original load-bearing columns between the living room and the dining room show the wild nature of the original building and form a sharp contrast with the exquisite furniture, making the space more flexible and becoming the focus of the living room.
停留在不同的區域中觀看外部美景,感受充滿餘韻的場域空間。
Stay in different areas, watch the external beauty and feel the field space full of aftertaste.
茶室,最日常的空間,放棄神性,回歸私宅屬性,才能讓居住者獲得歸屬。
Teahouse, the most daily space, gives up divinity and returns to the attribute of private house, so that the residents can belong.
原始與精緻,精簡及浪漫。
Primitive and exquisite, concise and romantic.
二樓,是黑色與原木的碰撞,局部鏤空,空間層層疊加遞進,若隱若現。
On the second floor, there is a collision between black and logs, partially hollowed out, and the space is superimposed and progressive layer by layer.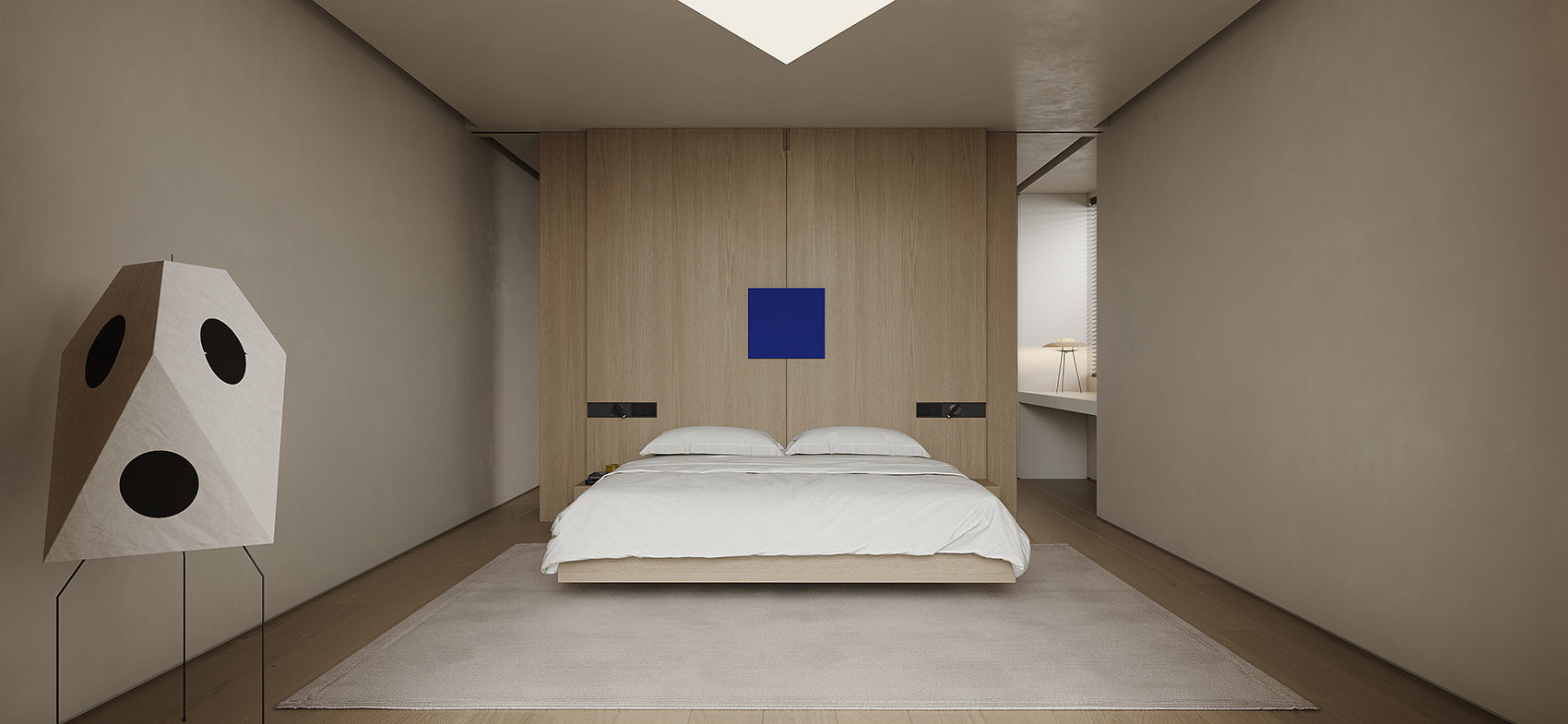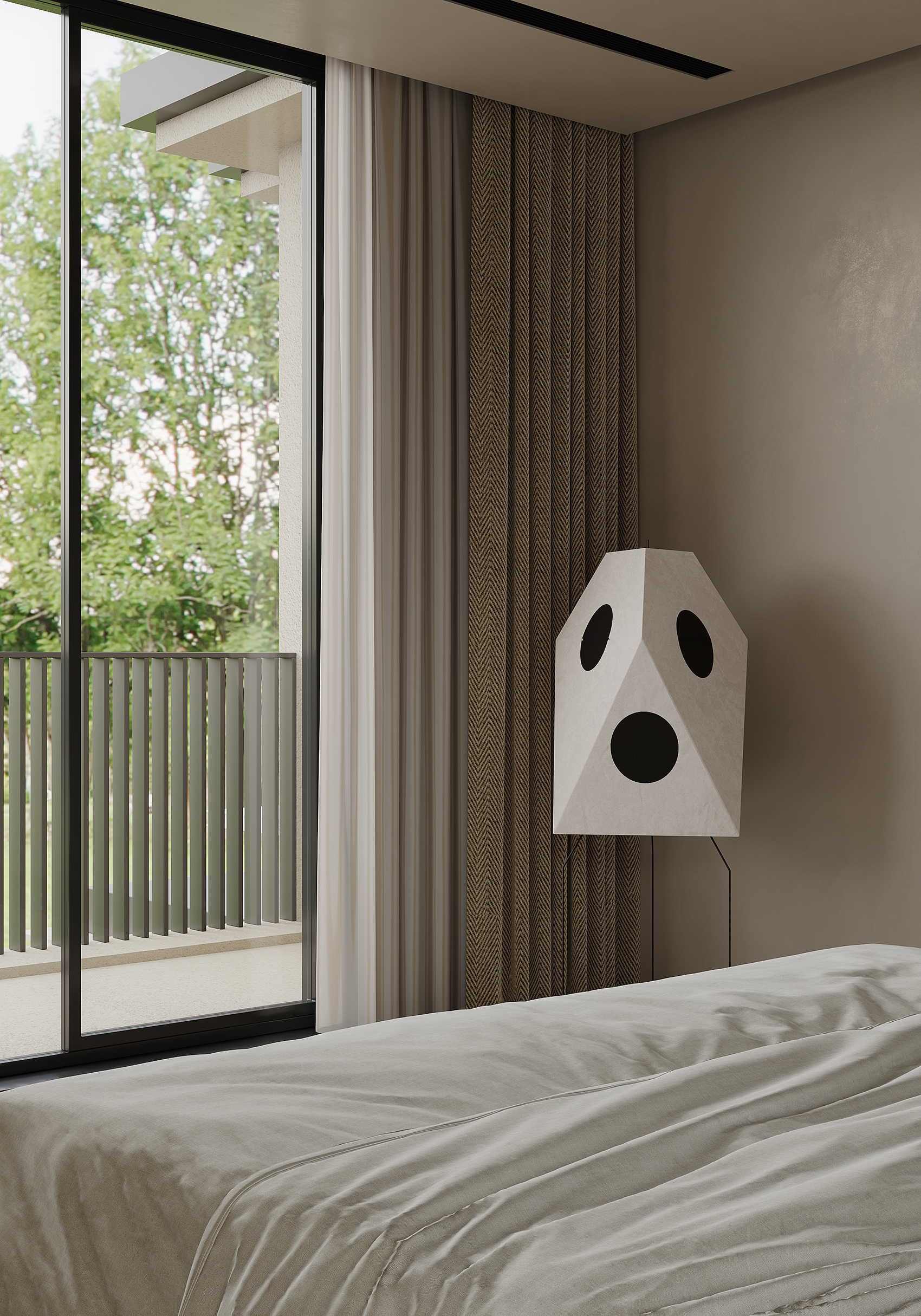 一眼望去,一切美景盡收眼底,卸下一切疲憊,在臥室裏享受度假般的愜意悠閒。
At a glance, you can have a panoramic view of all the beautiful scenery, take off all the fatigue, and enjoy the leisure of vacation in the bedroom.
主臥的衛生間,流暢的線條乾淨利索,高雅地詮釋現代主義的精簡,演繹出簡約高品質的生活態度與體驗。
The bathroom in the master bedroom, with smooth lines and neat lines, elegantly interprets the simplification of modernism and deduces a simple and high-quality life attitude and experience.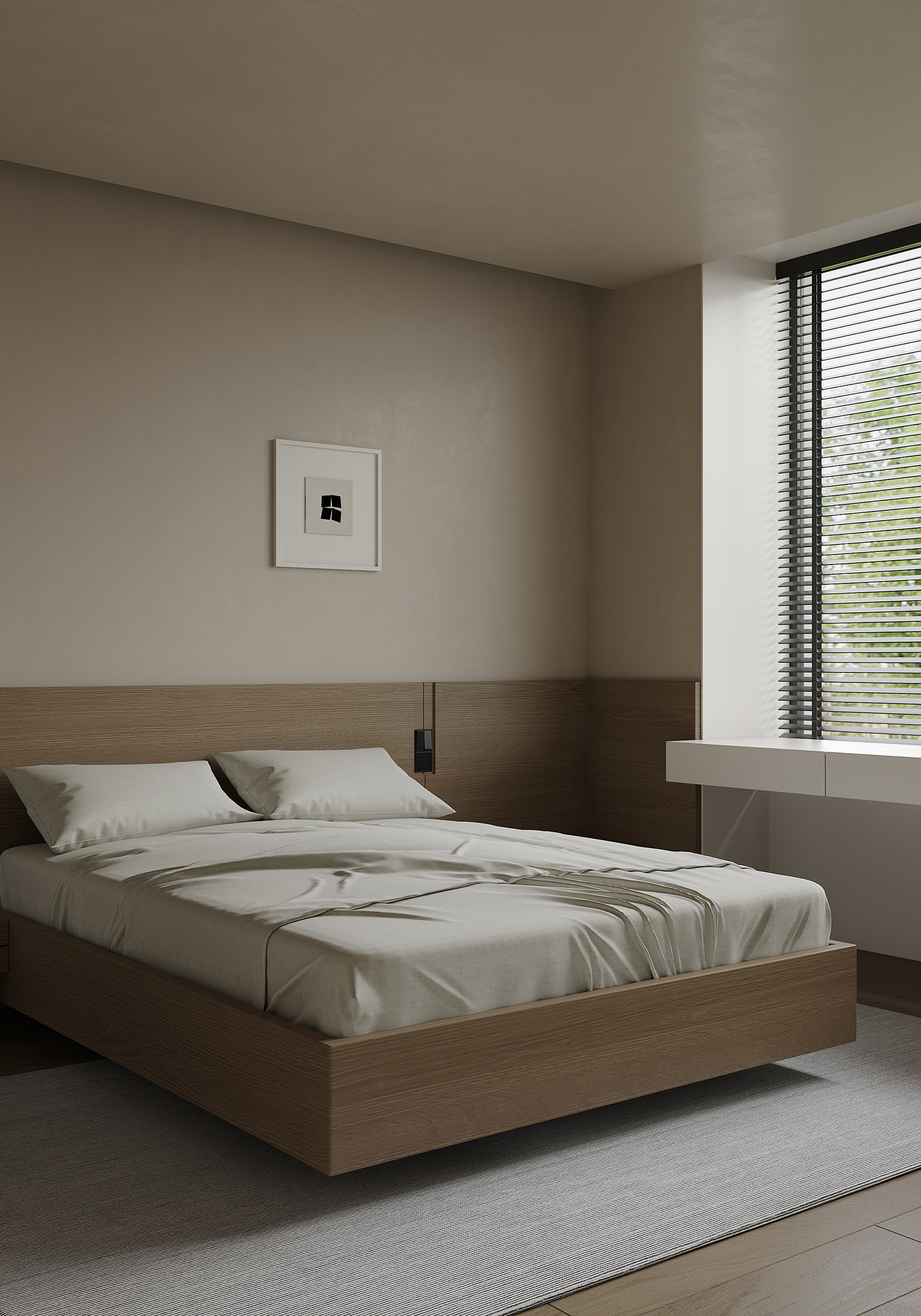 次臥簡練,奢雅,大面積的璃窗,打破了空間的封閉感,使得整個空間變得通風透氣,整個空間張弛有度、進退得當。
The second bedroom is simple, luxurious and elegant. The large-area glass window breaks the sense of closure of the space, making the whole space ventilated and relaxed.
窗戶外的景色更像是一幅藝術畫一樣懸掛於空中,整個空間和諧統一卻不因其極簡而乏味無趣。
The scenery outside the window is more like an art painting hanging in the air. The whole space is harmonious and unified, but it is not boring because of its simplicity.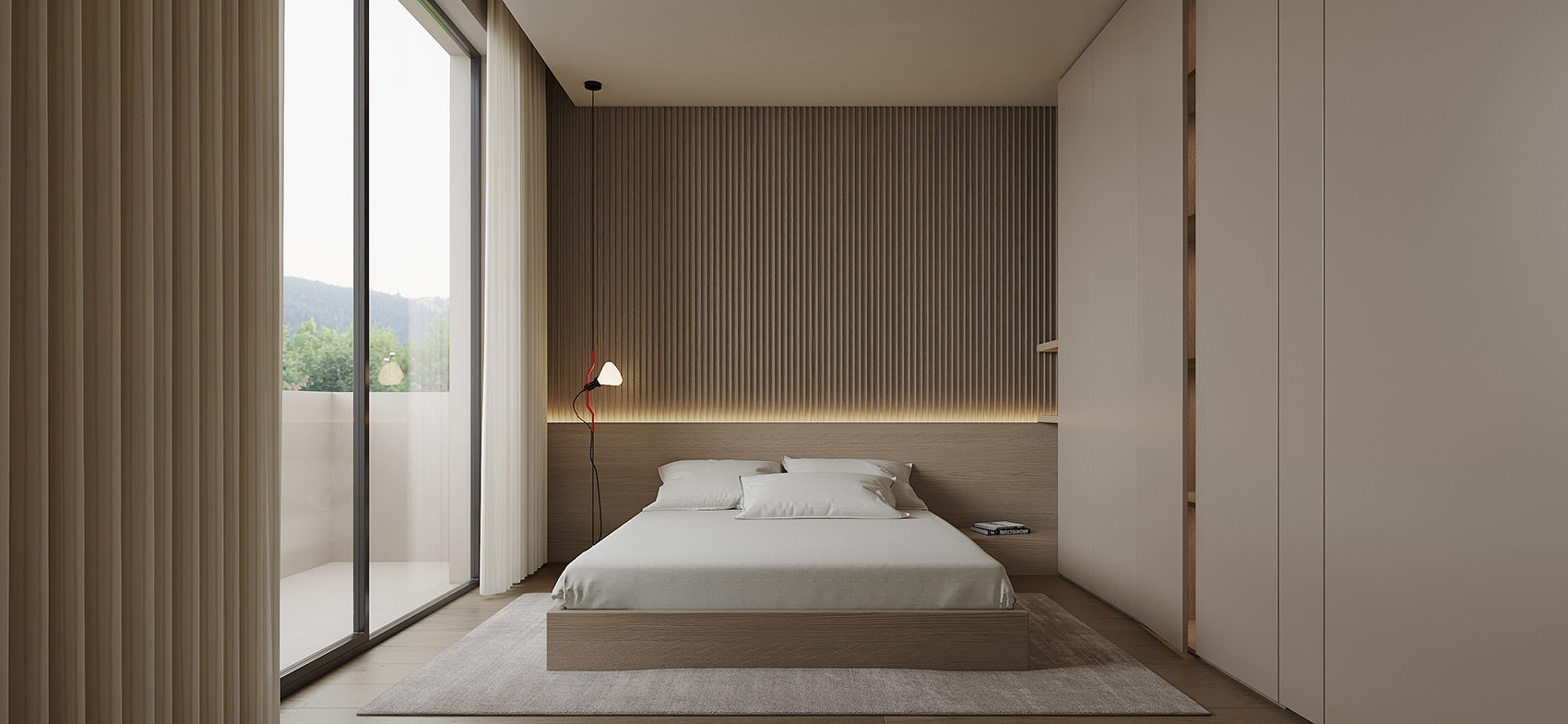 大面積溫潤柔和的大地色系,與窗外自然氣息和諧相融,調釋放出融融暖意,賦予日常起居以鮮明活力。
A large area of warm and soft earth color system is in harmony with the natural atmosphere outside the window, releasing the warmth and giving distinct vitality to daily life.