在整個空間裡面,由於頂面橫樑的高低落差,我們通過超薄頂的設計,像紙片一樣疊加,再折疊延續到立面,從而形成四方空間中的不規則幾何,不同的材質賦予在不同空間的牆面上,加以細節的表達,使空間更為耐看。
In the whole space, due to the height difference of the top beams, we designed the ultra-thin roof, superimposed like pieces of paper, and then folded and continued to the façade, thus forming an irregular geometry in the square space, with different materials given to different On the wall of the space, the expression of details is added to make the space more attractive.
在這個180㎡的複式居所裏,我們希望打造一個適合居住,充滿生機的所在。一樓是老人的居住區及公共生活區,滿足客廳、餐廚、娛樂和社交的
功能,以超越時間的氣質和場域精神塑造藝術之美;二樓則是主人的私密休息區,以酒店的行政套間為靈感,想要讓人在家也能享受度假式的居住體驗。
In this 180 ㎡ duplex residence, we hope to create a place suitable for living and full of vitality. The first floor is the residential area and public living area for the elderly, which meets the functions of living room, kitchen, entertainment and social interaction, and shapes the beauty of art with the temperament and field spirit beyond time; The second floor is the owner's private rest area. Inspired by the hotel's administrative suite, people want to enjoy a holiday living experience at home.
客廳的天花板在簡潔的幾何形態中,巧妙地穿插褐色木飾面,詮釋出傳統與現代的平衡之美,達到功能與審美的和諧相容。
The ceiling of the living room is cleverly interspersed with brown wood veneer in the concise geometric form, which interprets the beauty of the balance between tradition and modernity, so as to achieve the harmonious compatibility of function and aesthetics.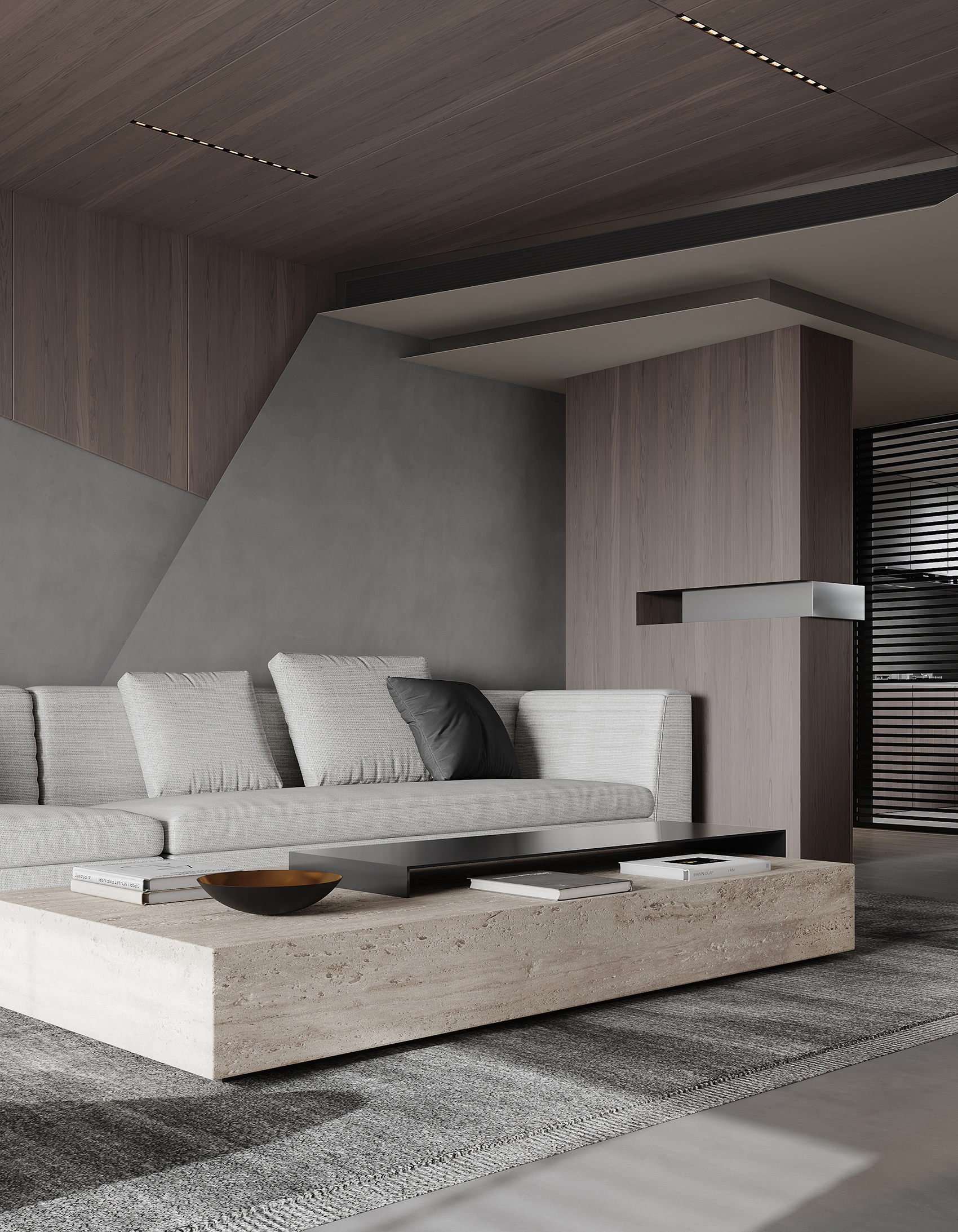 光從客廳的落地窗湧入,將樹的影子揮灑在灰色的地毯上,隨著風的流動而搖晃,仿若鮮活的生命湧入了空間內部,一切愈發安靜。
Light poured in from the French windows of the living room, scattering the shadow of the tree on the gray carpet, shaking with the flow of the wind, as if fresh life poured into the interior of the space, and everything became more and more quiet.
這次的設計,在強調風格、發揚個性的同時,更加重視與現代生活的完美結合,打造富有現代感的生活空間。
While emphasizing style and individuality, this design pays more attention to the perfect combination with modern life to create a modern living space.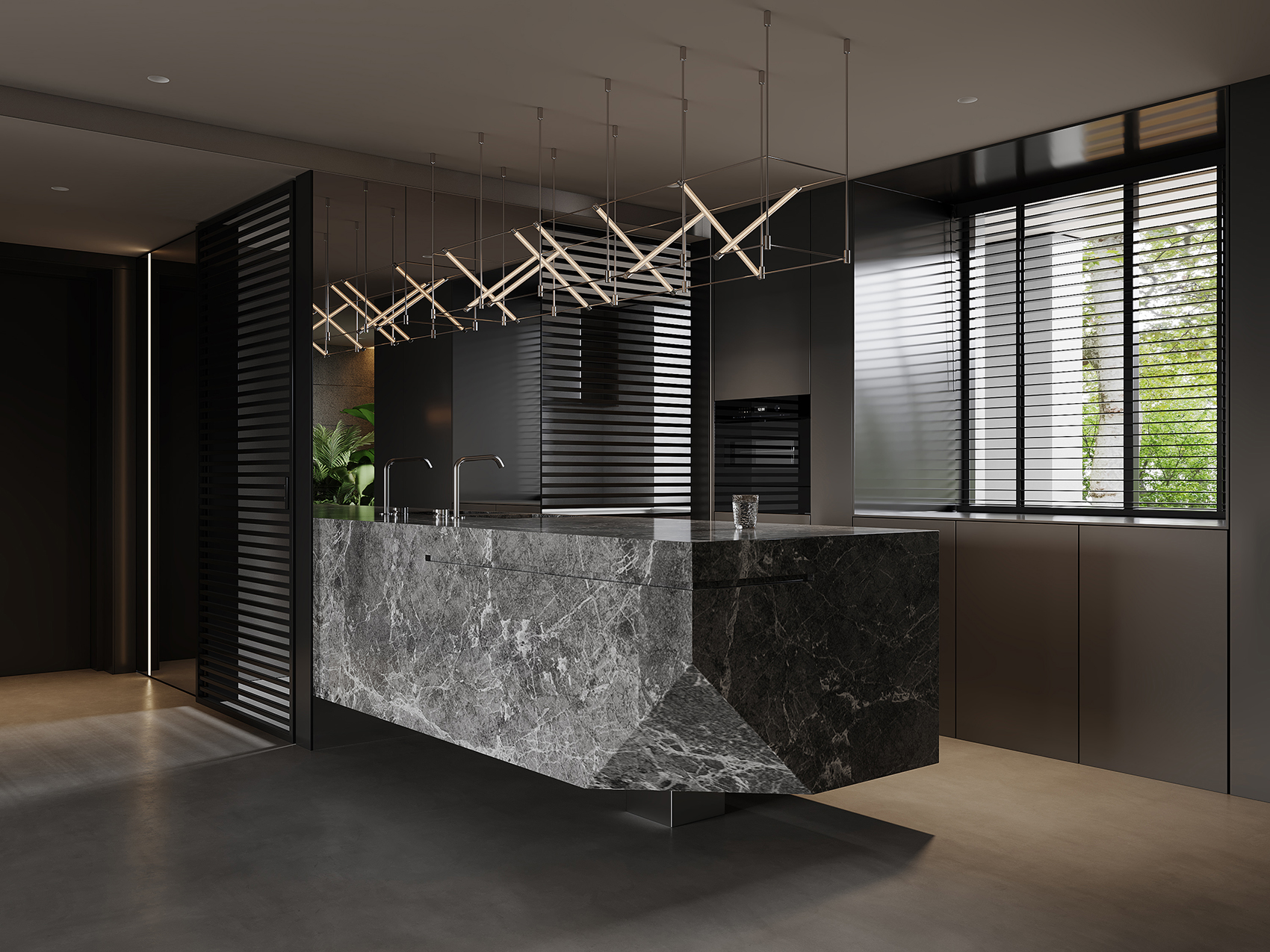 廚房運用深色大理石作中島,展露藝術張力、定格藝術之境,以形塑意,為平凡的日常提供驚喜與享受。
The kitchen uses dark marble as the middle island to show the artistic tension and freeze frame art, shape and shape the meaning, and provide surprise and enjoyment for ordinary daily life.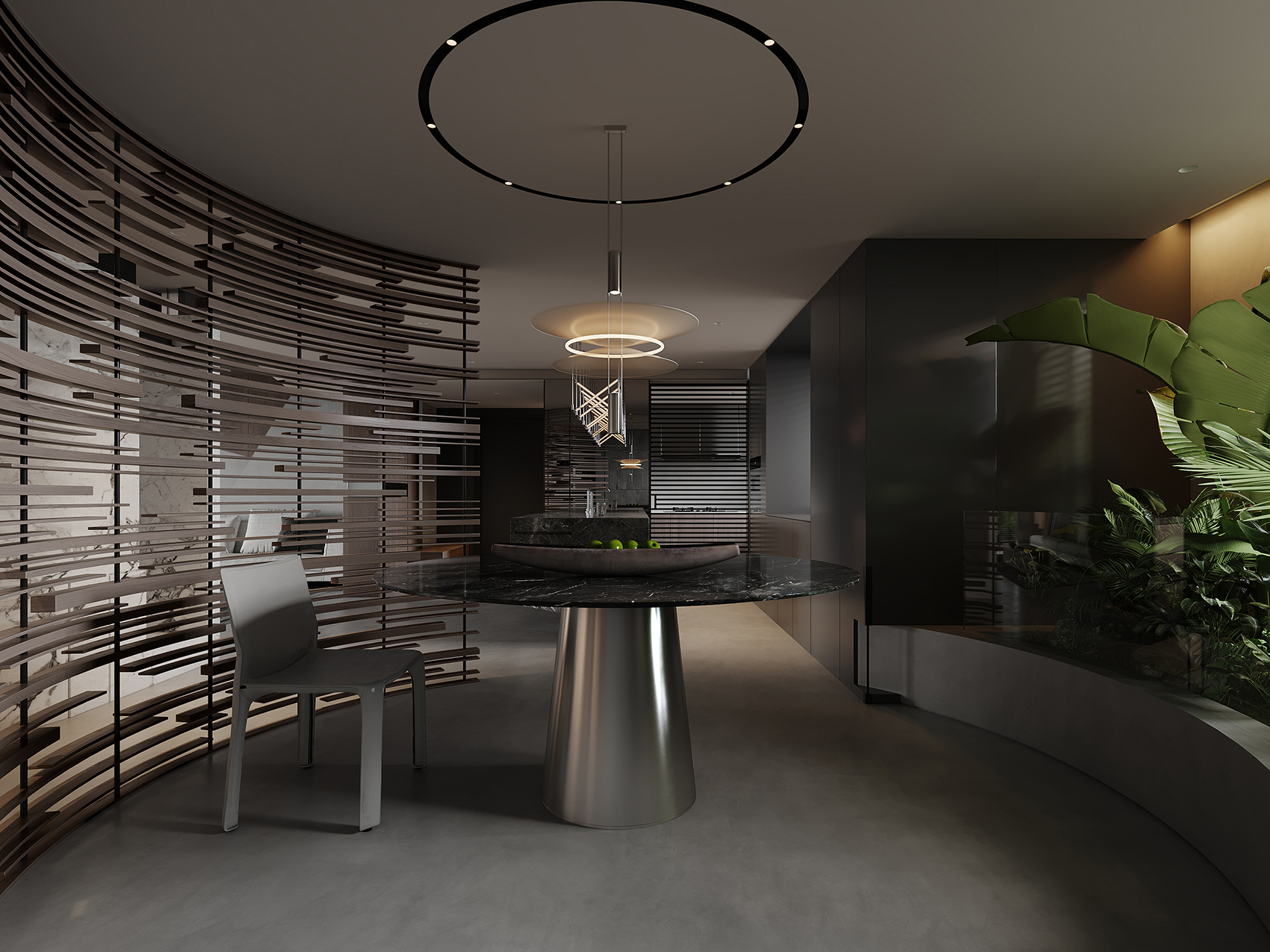 把綠植搬進家中,打造了一個放鬆的就餐環境,以生命的象徵,為空間注入靈魂,喚醒人們對於美好生活的感知。

The green plant is moved into the house to create a relaxed dining environment, inject soul into the space with the symbol of life, and awaken people's perception of a better life.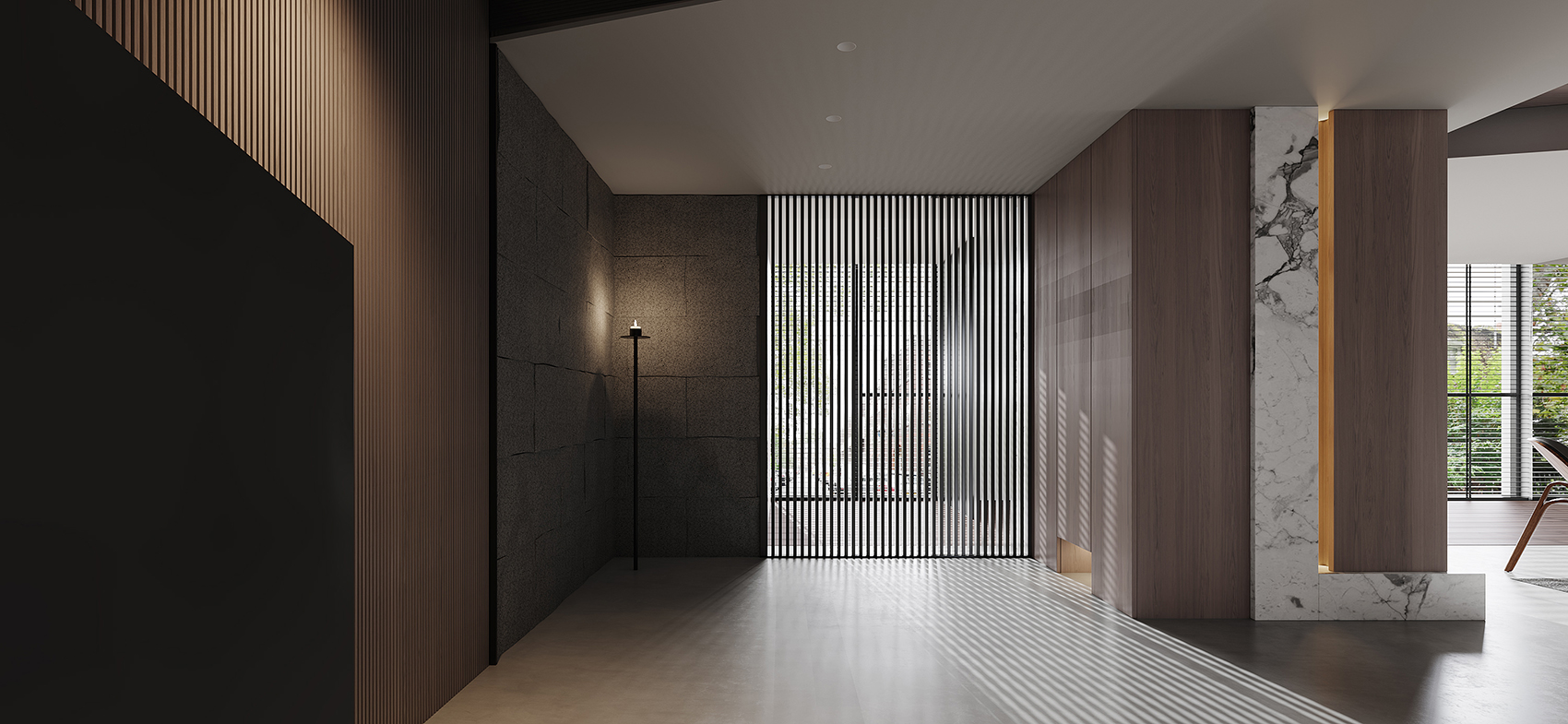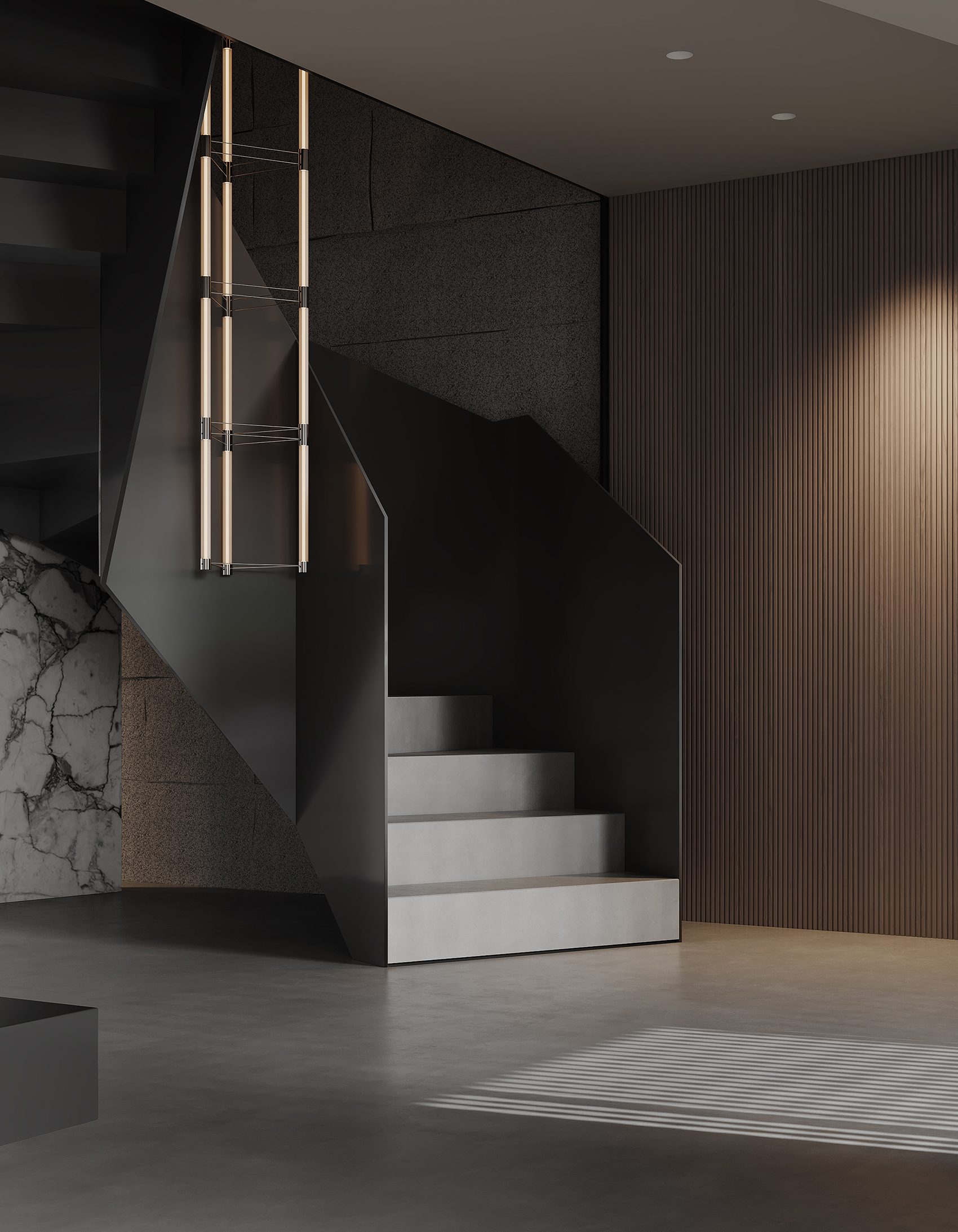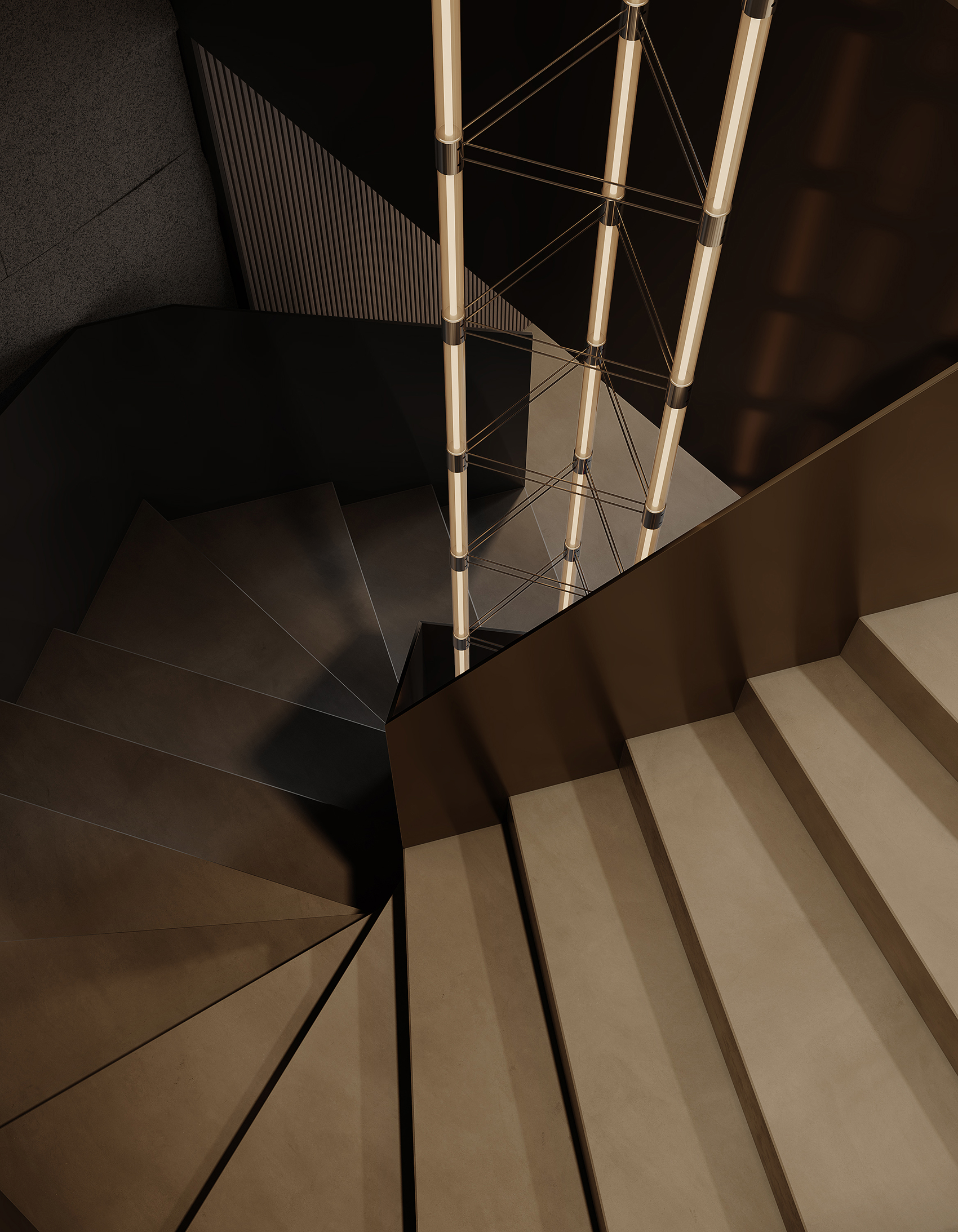 一層向二層的樓板打開,形成向上的挑空,塑造了空間的對話關係。
The first floor opens to the second floor, forming an upward void, shaping the dialogue relationship of space.
二樓的酒店行政式套間以"穩"和"雅"為基調,串聯動線,又保留了各自的獨立性,似隔未隔,似斷又連,醞釀浪漫,延續藝術。
The administrative suite of the hotel on the second floor takes "stability" and "elegance" as the basic tone, connects the moving line in series, and retains their independence. It seems to be separated, broken and connected, brewing romance and continuing art.
衣帽間和書房的結合,予以空間更多靈動、多變的表情。光影之間,書寫空間生動的情緒。
The combination of cloakroom and study gives space for more flexible and changeable expressions. Between light and shadow, write vivid emotions in space.
書房用創造性的精神和專業性的表達,賦予空間價值,通過光影互動,捕捉空間生動的情緒。
The study endows the space with creative spirit and professional expression, and captures the vivid emotion of the space through the interaction of light and shadow.