黑格尔曾说"服装是流动的建筑"。确实,服装与建筑之间似乎一直以来都存在着千丝万缕的微妙关系。追其溯源,两者的产生都是为了遮蔽与保护人类,一静一动,相互影响,共同构建起立体构成的空间艺术。
Hegel once said that "clothing is a fluid building". Indeed, there seems to have been an inextricably intertwined relationship between clothing and architecture. Tracing back to its origin, both were created for the purpose of shielding and protecting human beings, one static and one moving, interacting with each other, and jointly constructing a three-dimensional spatial art.
PAN'TTERFL,创立于2012年的法国走秀原创品牌。在其全新的体验艺术空间店设计中,FF希望通过回溯品牌的成长历程,赋予空间更多的文化与艺术属性,试图唤起每个人的记忆碎片。
PAN'TTERFL, an original French catwalk brand founded in 2012. In its brand new experience art space store design, FF hopes to give the space more cultural and artistic attributes by retracing the growth process of the brand, trying to evoke everyone's memory fragments.
门口大面积的弧形落地窗,打破面积所受的客观限制,与外部形成开放的对话关系,使得光影与视线得以在两个空间中流动与变换。
The large arc-shaped floor-to-ceiling windows at the entrance break the objective limitation of the area and form an open dialogue with the outside, allowing light, shadow and sight to flow and change in the two spaces.
入口处,一系列红色拱券组成的前廊,吸引人们不自觉地前往。古典元素经过现代方式的处理,在保留其典雅、端庄的基础上,增强了轴线的空间序列,完成了进门的仪式感。
At the entrance, the front porch composed of a series of red arch coupons attracts people to go unconsciously. The classical elements are treated in a modern way, and on the basis of retaining their elegance and dignity, the spatial sequence of the axis is enhanced, and the sense of ceremony of entering the door is completed.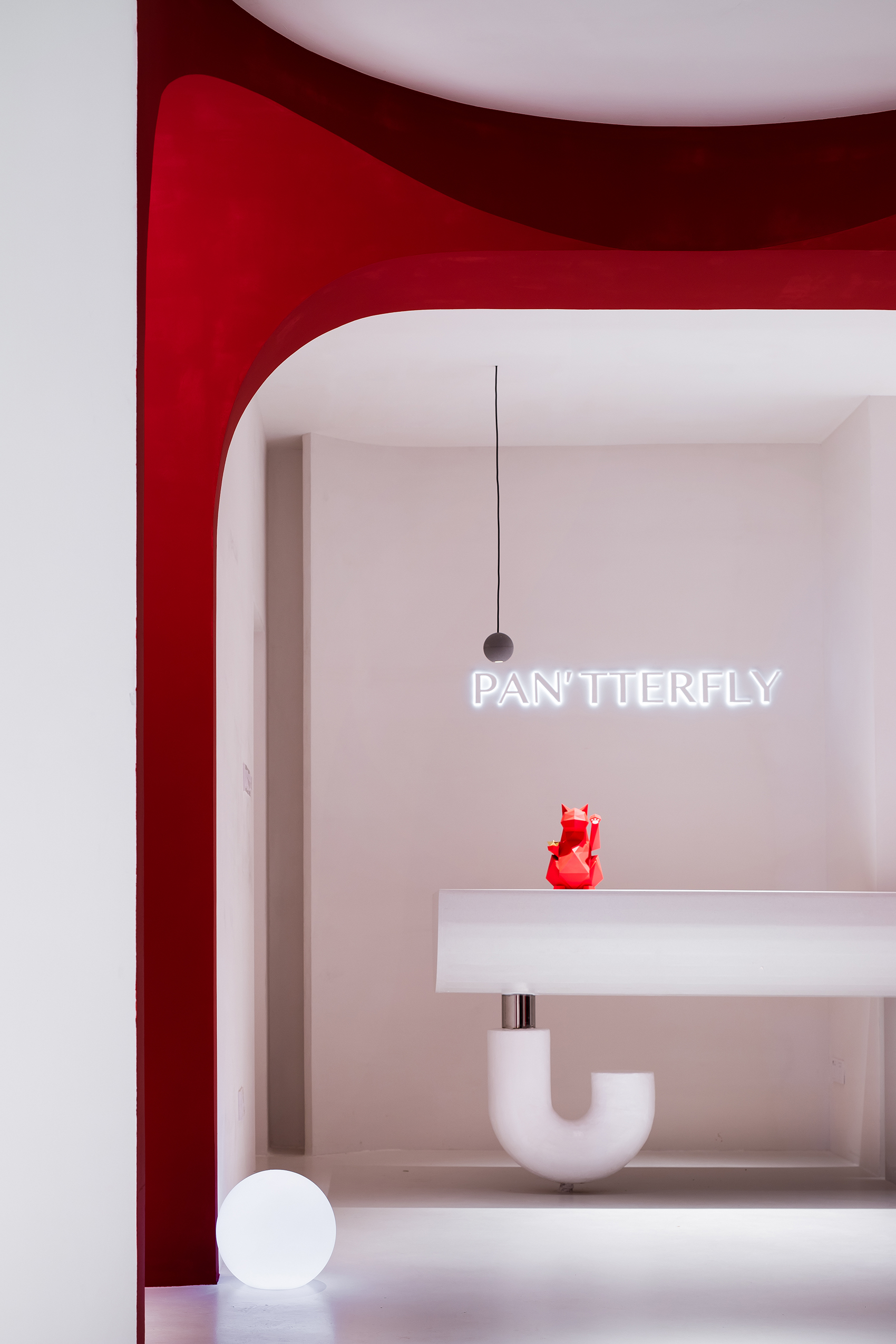 室内的功能并不繁杂,接待、洽谈、展示与储藏各归其位,空间地分隔方式简洁、明了。
The functions of the interior are not complicated. Reception, negotiation, display and storage are all in their own place, and the space is separated in a simple and clear way.
当艺术融进服装单品,在这个新时代的展示性空间中,线条与空间交错,色彩与时间对接,展品与展示对撞。共同开启了一场限时的,与时间和空间的互动对话。
When art is integrated into clothing items, in the display space of this new era, lines and spaces are interlaced, colors and time are connected, and exhibits and displays collide. Together they started a time-limited interactive dialogue with time and space.
优雅的弧形贯穿始终,将服装展示区与屏幕区包裹其中,呈现出自由、多样的空间形态。人们的行为动线也由此铺陈开来。
The elegant arc runs throughout, wrapping the clothing display area and the screen area, presenting a free and diverse space form. People's behavioral lines are also laid out.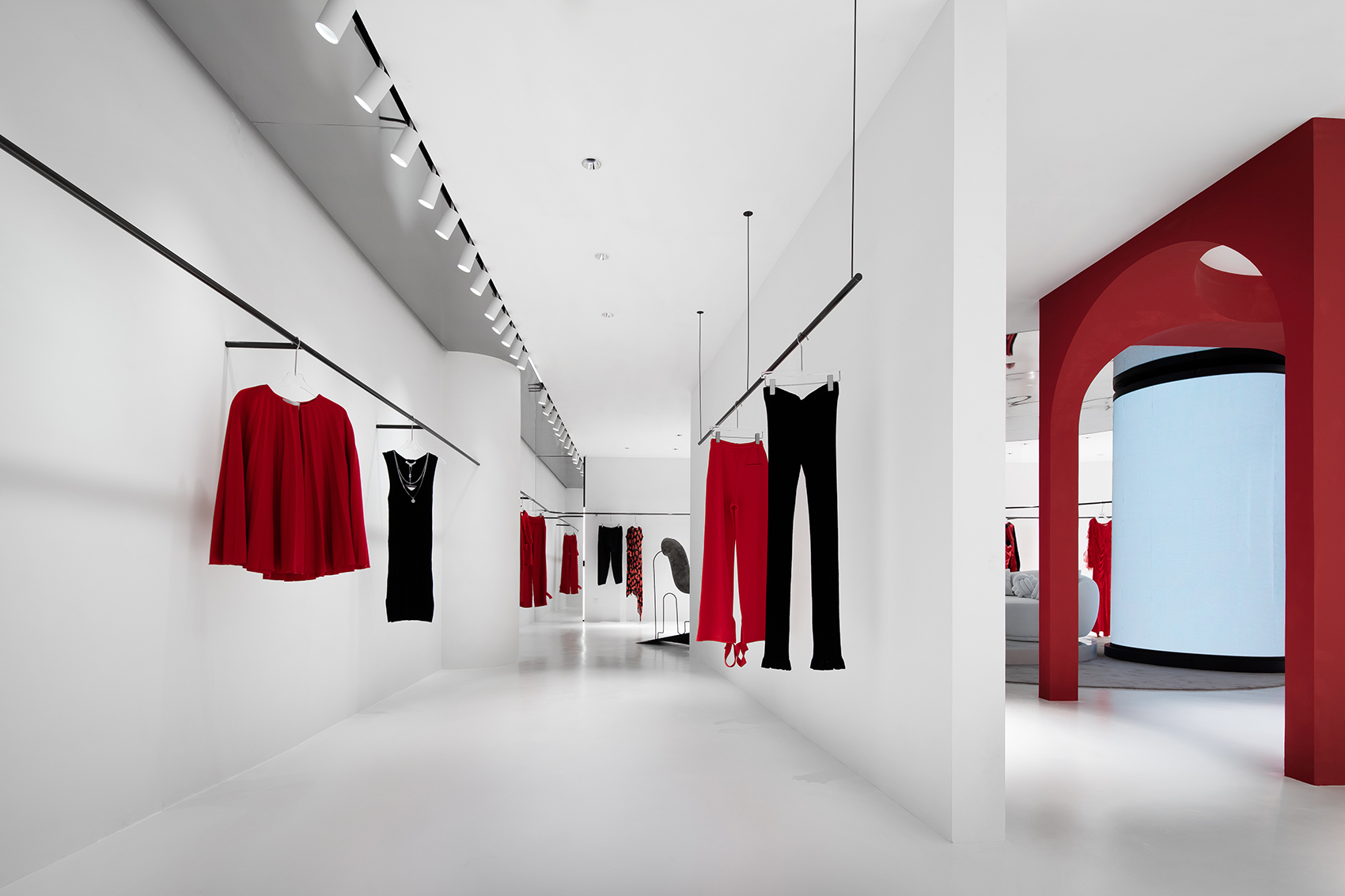 线性排布的成衣展示区是面向自我的艺术长廊,弱化的背景处理下,是一眼到底的清晰明了。
The linearly arranged ready-to-wear display area is an art gallery facing the self. Under the weakened background treatment, it is clear and clear at first glance.
动态的数码屏幕与镜面相互配合,赋予空间灵动性。因反射创造出的失重效果,给人以超现实的感官体验。
The dynamic digital screen cooperates with the mirror surface, giving the space flexibility. The weightless effect created by reflection gives a surreal sensory experience.
闯进艺术空间里的这抹红色,调动起人们所有的情绪价值,从单纯地形式审美过渡到心灵审美的层面。通过色彩的语言,娓娓道来品牌"浴火重生,破茧成蝶"的蜕变历程,回归本我的真实状态。
The red color that breaks into the art space mobilizes all the emotional value of people, and transitions from purely formal aesthetics to spiritual aesthetics. Through the language of color, the brand's transformation process of "reborn from ashes, broken into a butterfly" and returned to the true state of the self.