The flowing space is not a passive static existence, but a living force.
橱窗使用大块面玻璃,消弭了室内外的界限,
The use of large pieces of glass in the window eliminates the boundary between indoor and outdoor.
仅留一隅书页般的装置展示,提醒往来者,这里是一处商业空间的所在。
Only a corner of the book-like installation is left to remind passers-by that this is where a commercial space is located.
片墙上沿用泥客石做出装置壁龛,方寸之间可随意摆放些器物成就日常生活的一个又一个仪式感瞬间
The wall continues to use the clay guest stone to make installation niches, and some utensils can be placed at will between the square inches to achieve one ritual moment after another in daily life.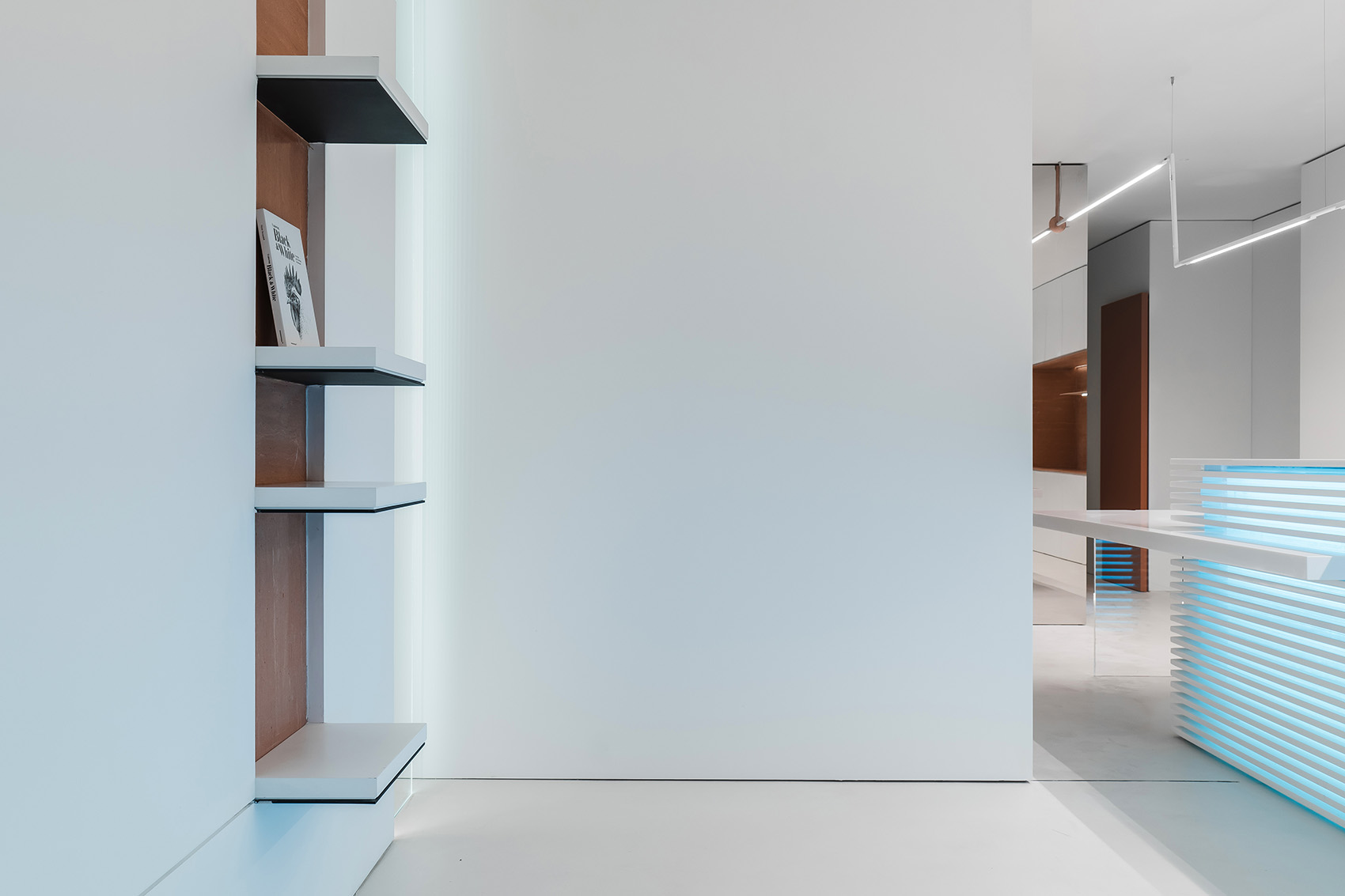 7米长整板中岛台,结合呼吸灯进行设计,层叠印射的呼吸灯散发出的光线,在室内自由发挥
The island in the whole board is designed in combination with breathing lamps. The light emitted by the layered breathing lamps can be freely used indoors.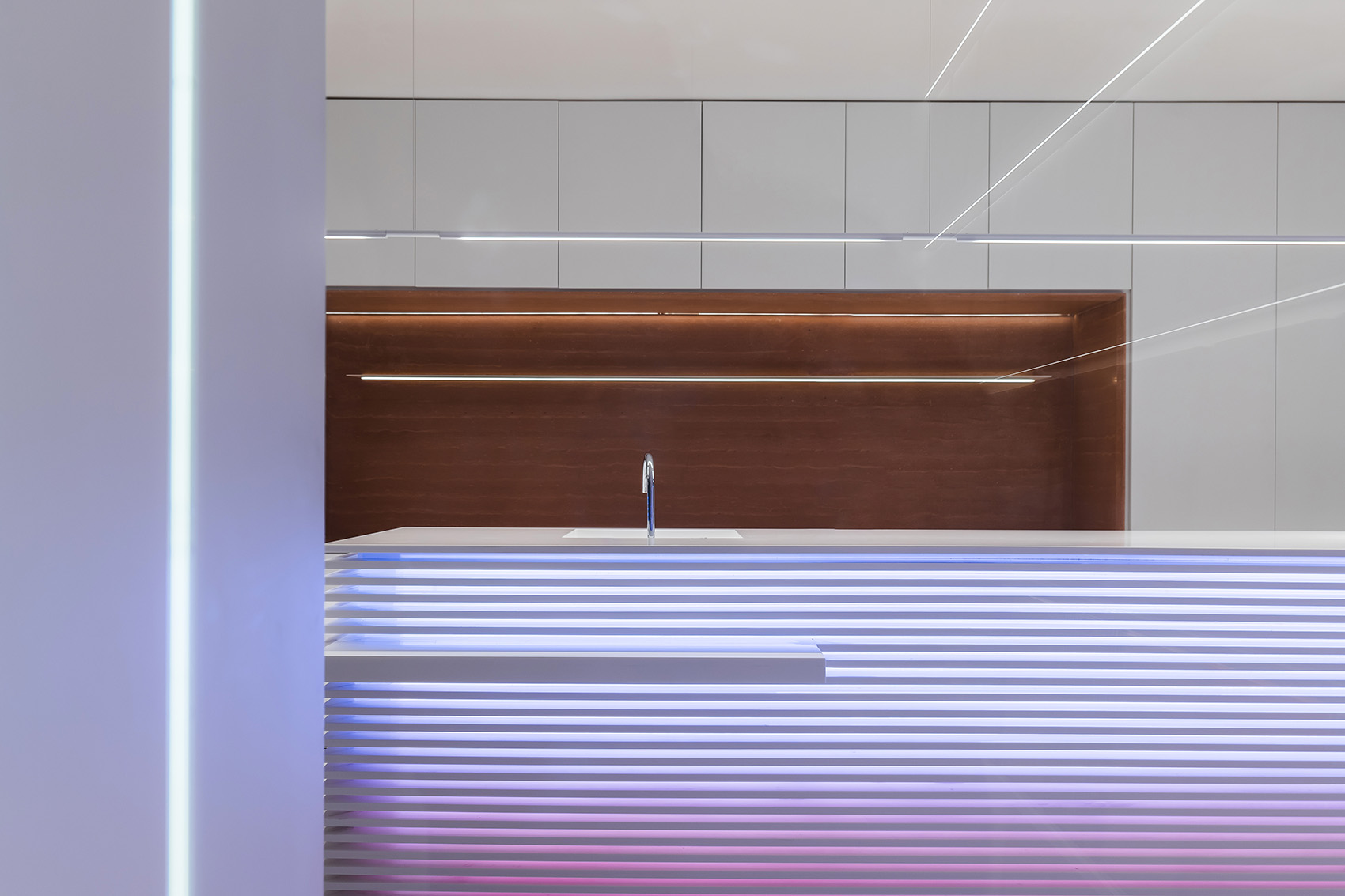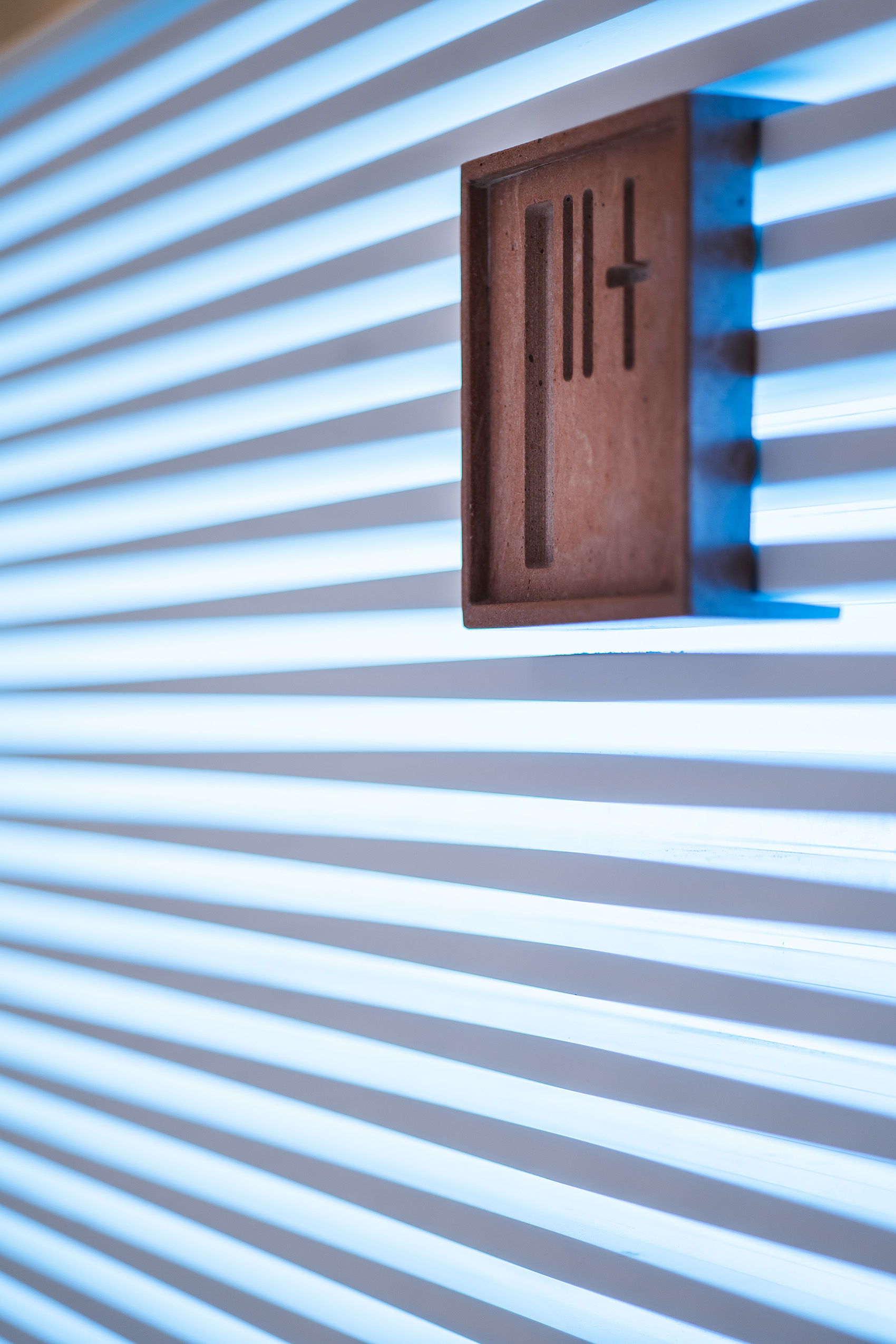 光线如同跳跃的音符在时间的洪流中穿梭,形成了整个空间最令人难忘的记忆。
The light travels through the torrent of time like jumping notes, forming the most unforgettable memory in the entire space.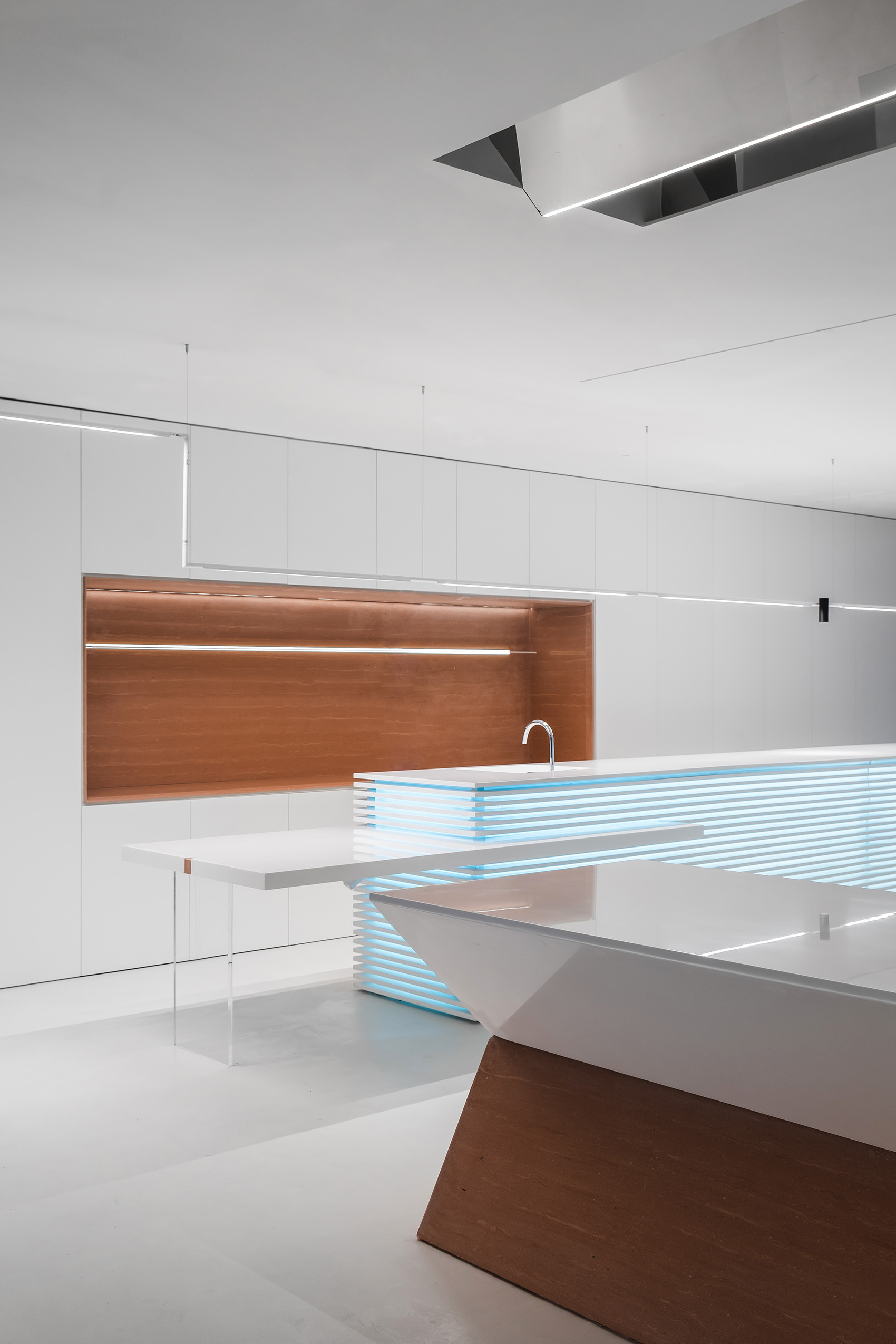 高低不同的面块拼接,仅用一块亚克力板做支撑,形成开放式餐桌,是生活区,也是工作区。
Noodles of different heights are spliced together, supported by only one acrylic board, to form an open dining table, which is a living area and a working area.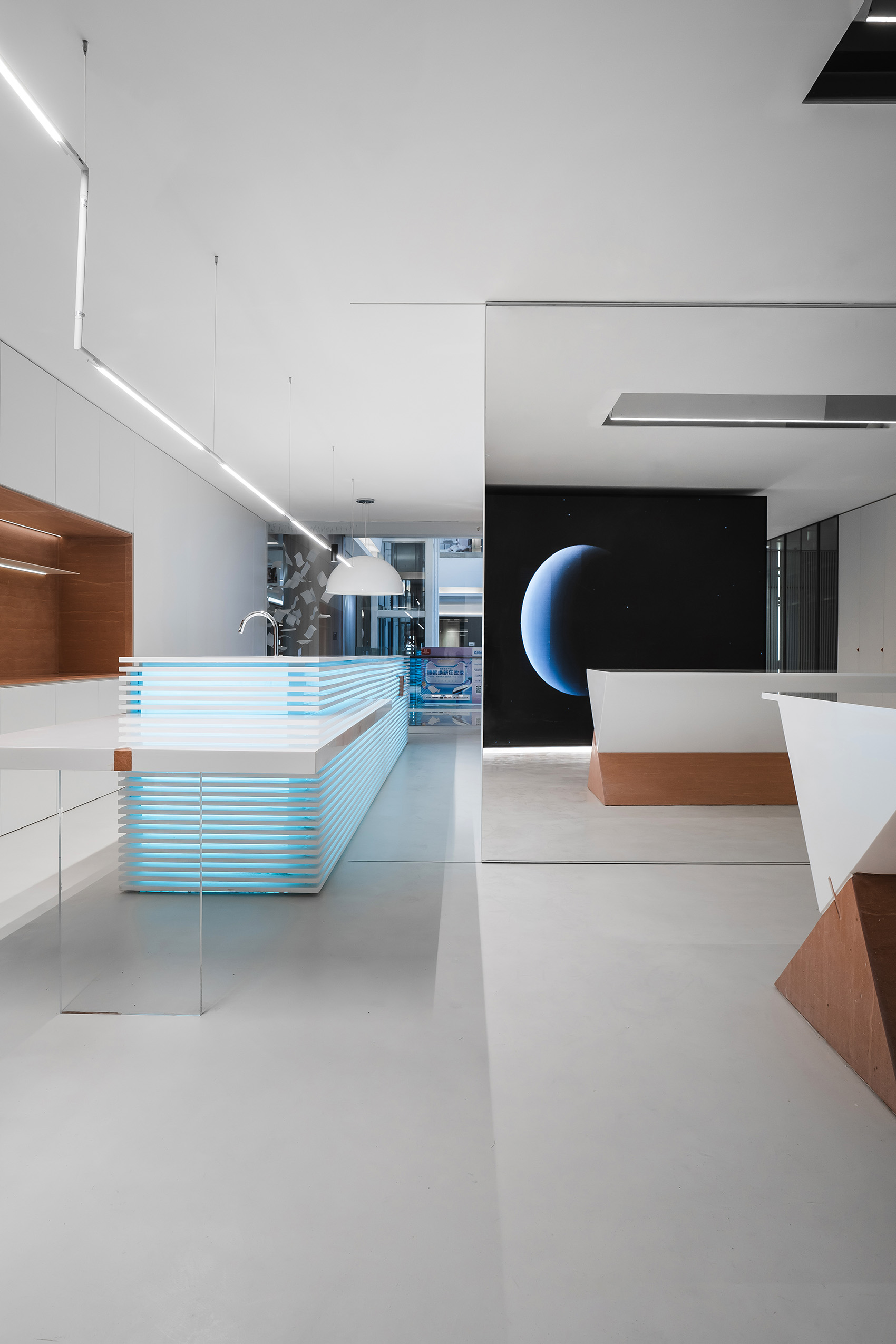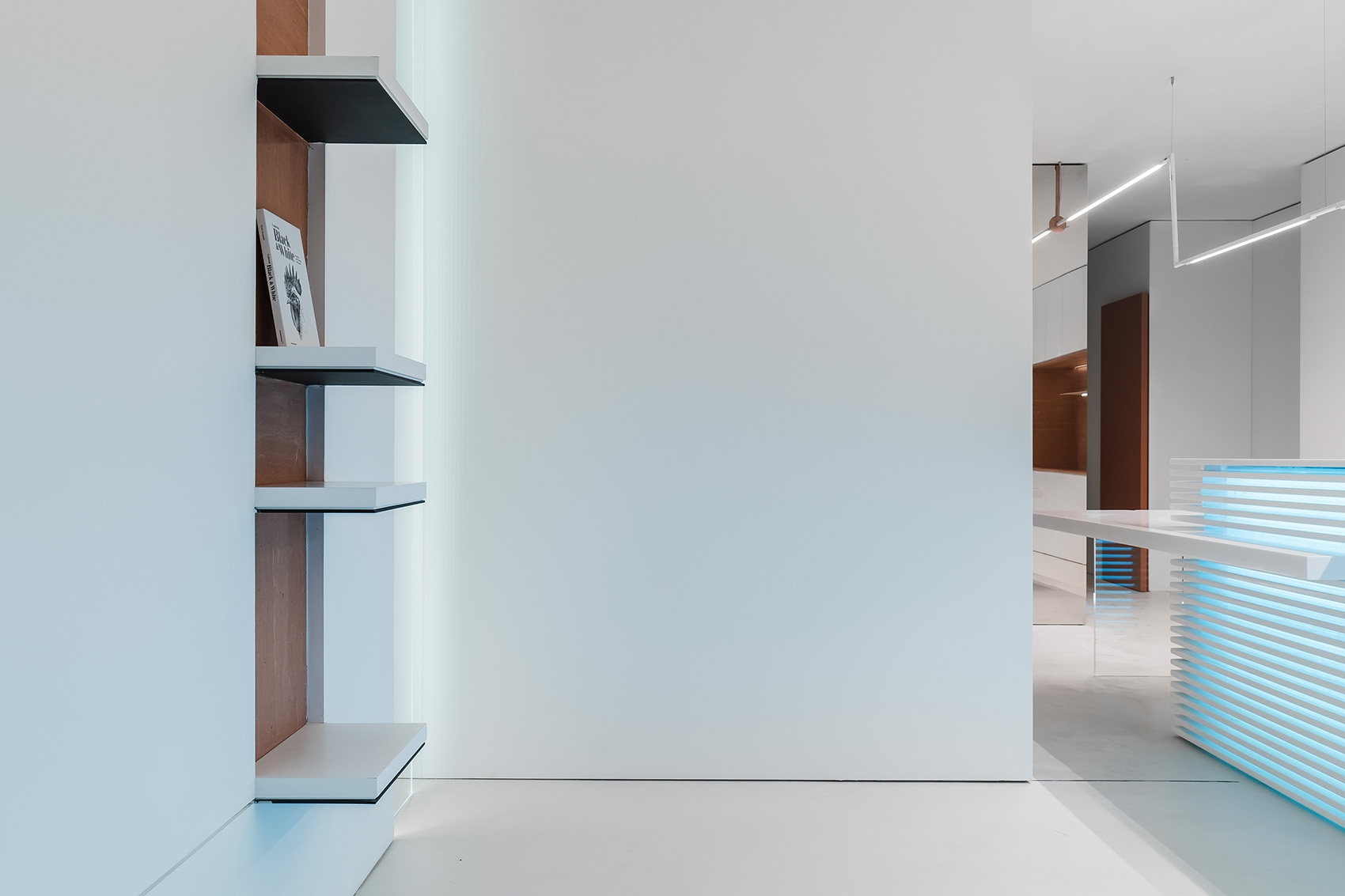 镜面移门&白墙移门
Mirror sliding door & white wall sliding door
吊柜的移门设计,解决地轨移门难以清洁的问题,在视觉上,也保证了空间的完整性。
The sliding door design of the hanging cabinet solves the problem that the floor rail sliding door is difficult to clean. Visually, it also ensures the integrity of the space.
简单明了的材料展示区设计,在每一层柜体上内嵌灯带,透过恰到好处的光照,板材流露它原有光泽。
The design of the material display area is simple and clear. Light strips are embedded in the cabinets on each floor. Through just the right amount of light, the plate reveals its original luster.
在这里,希望你可以遇见所喜,能挑选到精致耐用,且真正适合自己的全屋定制好物。
Here, I hope you can meet your liking, and you can choose the exquisite and durable, and truly suitable for your whole house customization.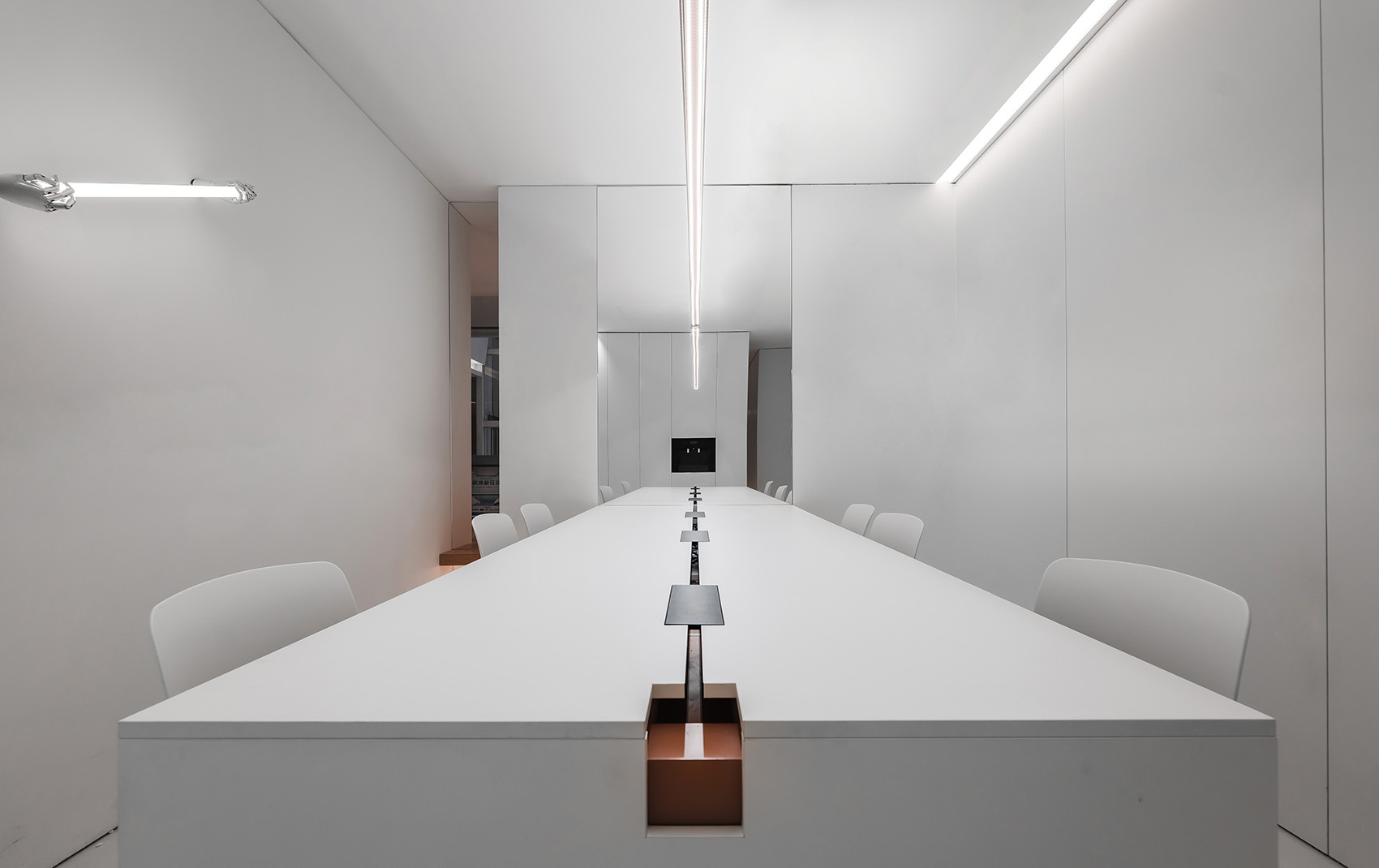 整个空间以白色为主,用橘色折线灯作为空间点缀。
The entire space is dominated by white, with orange polyline lights as the space embellishment.
以折线灯为中心点,下与桌子分割线对应,并向左右两边展开空间,
前与镜面延申了空间的纵深感,并对空间产生平衡对称美;
运用简单的空间透视法则去创建一个极具设计感的空间。
Taking the polyline lamp as the center point, the bottom corresponds to the dividing line of the table, and the space is expanded to the left and right sides. The front and the mirror surface extend the depth of the space and create a balanced and symmetrical beauty of the space; use simple spatial perspective rules to create a polar Design space.